Table of Contents
1&1 IONOS Review: Background Information
Trading ever since 1988, 1&1 is a famous leader among web hosting providers and global domain name registrars. In 2018, it became 1&1 Ionos and focused on empowering businesses by providing them powerful technology.
The service provider offers a complete range of web services for every budget, skill level, and needs. It has five different types of hosting plans, and it manages over 12 million domains. All their services promise a combination of affordability and innovation, and you get to enjoy excellent reliability and security.
Website Hosted Stats & TLDs
1&1 Ionos is one of the most well-known providers. It has hosted more than 4,600,000 domains, has eleven hosting plans, and out of over 5000 providers, the site ranks fourth. Out of the total domains, websites with '.com' are the highest at over 3,500,000. Similarly, it hosts more than 300,000 '.org' domains and over 400,000 '.net' sites.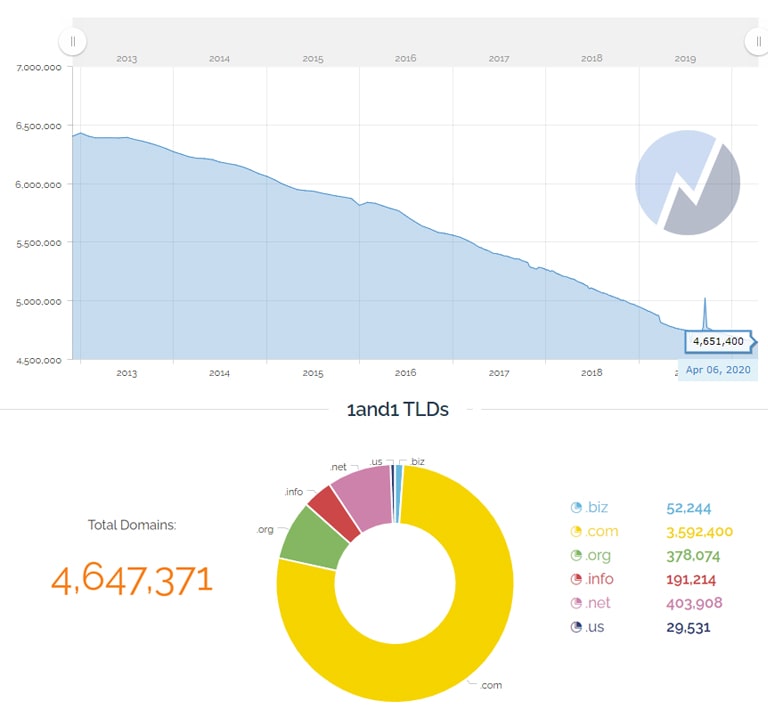 Performance, Uptime & Load Time
Before you opt for a web host, it is essential that you take a look at the performance metric. Factors that you must definitely look for include the uptime of the host, load time, and speed. All these influences not only the user experience but also the WordPress SEO rankings of the site.
Performance Test (Pingdom)

In order for your website to be fast, you must ensure that your web host is fast too. For this, we tested the speed of the host by making a dummy site with a default theme. The site also included dummy content with images to make it as close to a real website as possible. Then, we used Pingdom to test the speed. For 1&1 Ionos, the load time was below a second, which is quite impressive!
Server Uptime & Load Time (UptimeRobot)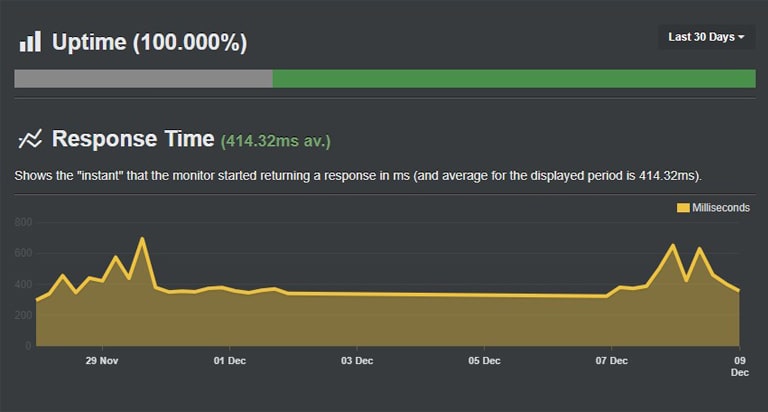 The second test we conducted was to check for the overall availability of the host. For this, we looked at the response time and downtime of the host. As you can see from the results, it hasn't been down at all in the last month. Moreover, it has an uptime of 100%, which is quite impressive! In addition, the speed is quite good, too. As apparent from the graph, the average response time has stayed below half a second, which means that you can expect to get reliable and stable performance.
Server Response Time (Bitcatcha)

With tools like Pingdom, you can see how long it takes for data like images to load on your site. However, to get a more accurate server response time, a more suitable tool is Bitcatcha. With this tool, you can test server response time without loading data. As the table shows, the server response time is quite good, especially in the United States. In other countries, the response time is slightly higher, but it is still well below one second. So, all in all, you get an excellent server time with 1&1 Ionos.
Hosting Plans and Features
1&1 Ionos provides various hosting plans that are suitable for all sizes and budgets. You can opt for shared hosting, cloud hosting, VPS hosting, dedicated hosting, etc. Here's a breakdown of the hosting plans that 1&1 Ionos provides, along with their features.
| Type of Hosting | #1 Package | #2 Package | #3 Package | #4 Package |
| --- | --- | --- | --- | --- |
| Shared (Basic) | $4 / mo | $10 / mo | $16 / mo | – |
| WordPress | $4 / mo | $8 / mo | $16 / mo | – |
| VPS | $5 / mo | $15 / mo | $25 / mo | $35 / mo |
| Dedicated | $65 / mo | $90 / mo | $130 / mo | $160 / mo |
Shared Web Hosting
This is one of the most famous kinds of web hosting mainly because of the low cost. With shared web hosting, your website divides and shares the system resources as well as the associated cost with the other sites present on the same server.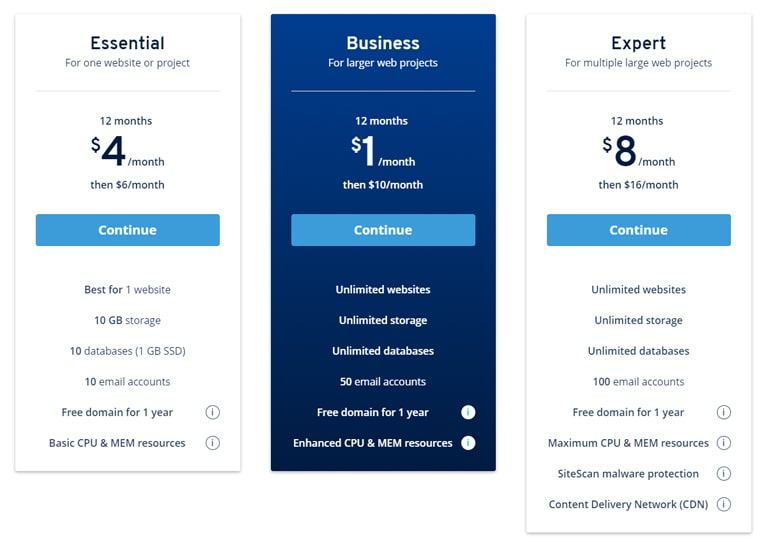 WordPress Web Hosting
WordPress is one of the most popular content management systems and has enough flexibility that it can even power up a Fortune 500 company website. It can also protect your site from common threats.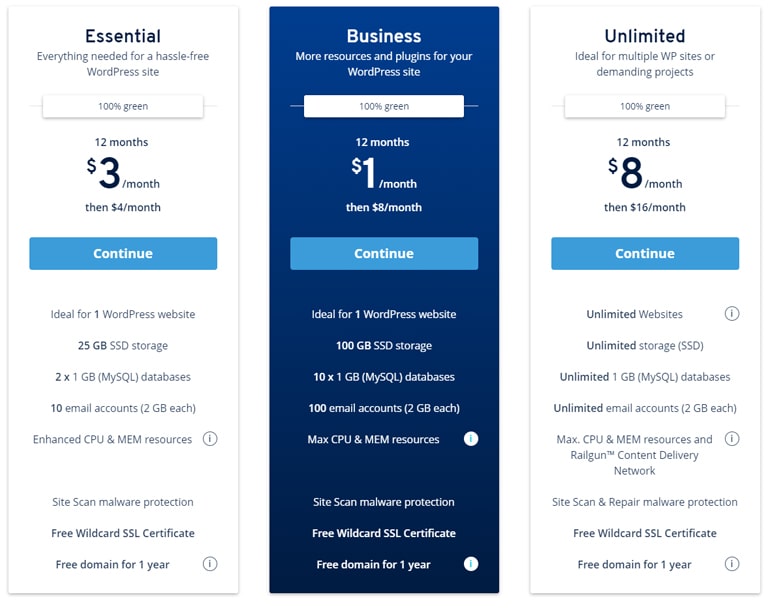 VPS Web Hosting
This is basically a step ahead from shared hosting and is a more powerful option that allows your website to benefit from more server power.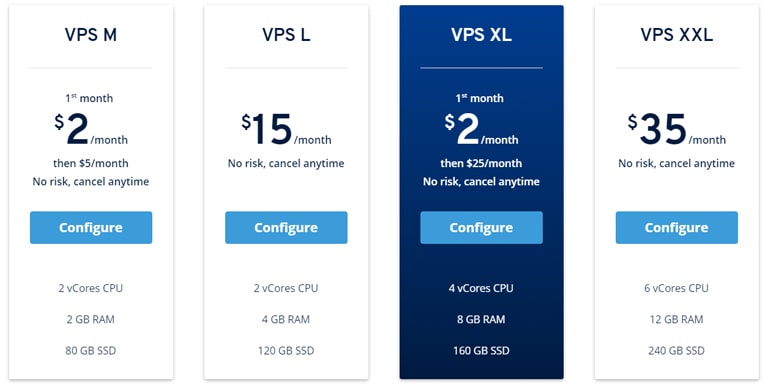 Dedicated Web Hosting
If you're looking for powerful non-cloud hosting, dedicated hosting is the way to go. It allows your website to use the server's full power since it is the only site existing on the server. There's no resource sharing in this case.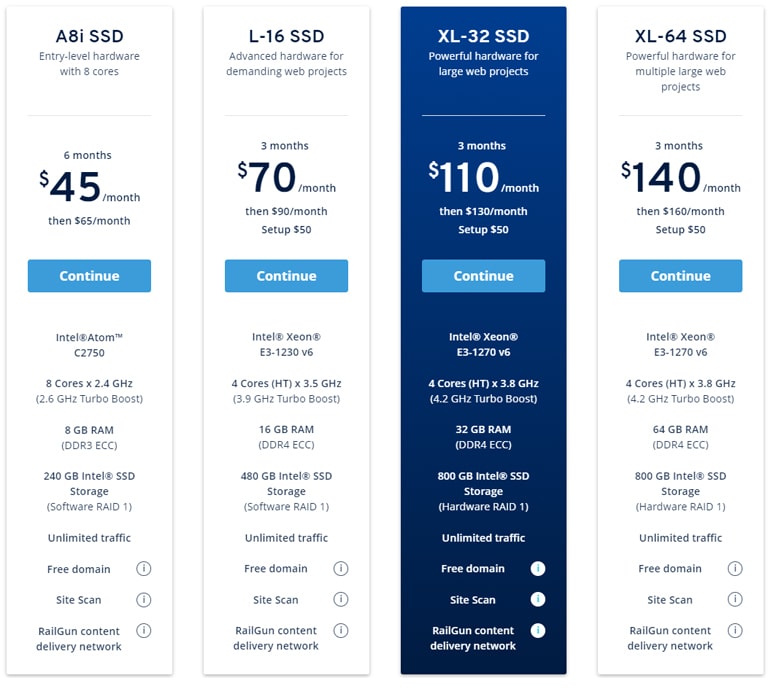 1&1 IONOS Basic (Shared Plan) in Detail
1&1 Ionos has a pretty great shared plan. Let's take a look at the details:
Essential Plan: With this plan, you can host one website and enjoy features such as unmetered bandwidth, ten email accounts, 10GB of storage, free domain, etc. The plan starts at $4 per month, and for renewal, you will have to pay $6 every month.
Business Plan: Starting at just $1 per month, with this plan, you get unlimited websites, storage, and databases along with 50 email accounts and a free domain. The plan renews at $10/month.
Expert Plan: Designed for multiple large web projects, the expert plan costs $8 for the first month. Apart from unlimited databases, websites, and storage, you also get 100 email accounts, a free domain, and advanced features like CDN, SiteScan malware protection, etc. To renew this plan, you will have to pay $16 a month.
| Main Features | Essential | Business | Expert |
| --- | --- | --- | --- |
| Special Price | $4 / mo | $1 / mo | $8 / mo |
| Normal price | $6 / mo | $10 / mo | $16 / mo |
| Perfomance level | Basic | 2 Level | 5 Level |
| RAM | 512 MB | 6 GB | 19 GB |
| Webspace | 10 GB | Unlimited | Unlimited |
| 1 SSL Wildcard Certificate | ✔ | ✔ | ✔ |
| Daily backup | ✔ | ✔ | ✔ |
| Easy 1-Click installation | ✔ | ✔ | ✔ |
| Free domain for 1 year | 1 | 1 | 1 |
| Email accounts | 10 | 50 | 100 |
| 24/7 customer service | ✔ | ✔ | ✔ |
| 30 day money back guarantee | ✔ | ✔ | ✔ |
Apart from these basic plans, it also has plans for agencies. These include:
Business: This is designed for one website or project and includes a free domain along with 50GB storage. The plan also includes scalable RAM up to 6GB.
Expert: The expert plan is specially made for multiple large web projects. It also includes a free domain as well as 500GB storage. With this plan, you get up to 19GB RAM.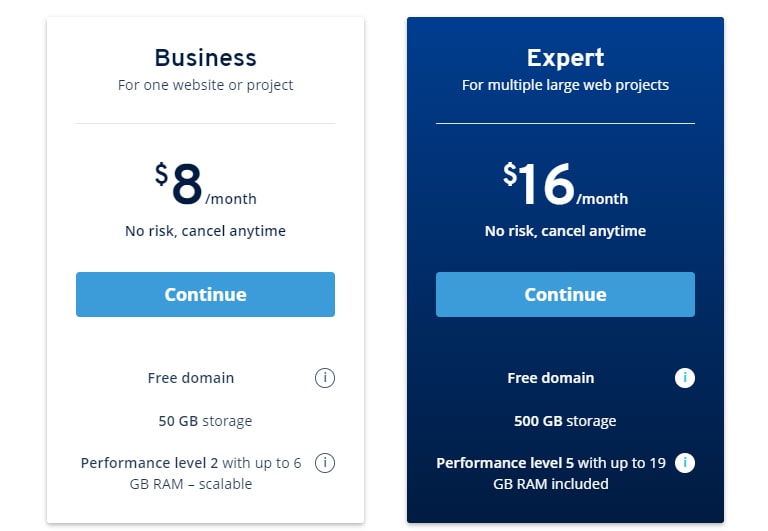 Plans & Prices
While 1&1 Ionos' essential plan starts at $4 a month, the business plan costs $1/month, and the expert plan is priced at $8/month.
| Renewal Prices | Essential | Business | Expert |
| --- | --- | --- | --- |
| 12 months | $6/mo | $10/mo | $16/mo |
Main Features in Detail
Domain Name & Email (Free or Not)
For all three shared hosting plans, you get a free domain name for a year. Meanwhile, for email accounts, you can get ten to up to 100 email accounts with your package, depending on which one you go for.

Web Space & Bandwidth
With all three shared hosting plans, you get unmetered bandwidth. As for storage, the essential plan gives you 10GB while the other two plans include unmetered storage.

WordPress 1 Click
1&1 Ionos makes installation super easy with WordPress one click. Once you purchase the WordPress hosting package, you only need to enter your domain name and simply click install.

Migration Service
Free transfer is a great way to migrate your website to a new host. Unfortunately, 1&1 Ionos doesn't offer any free transfers, and the pricing is ambiguous, too. You will have to get in touch with customer service to know the actual pricing.

Website Builder
When you subscribe to 1&1 Ionos, you get access to 1&1 Ionos MyWebsite. This includes an excellent Duda website builder that features a mini toolbar and has a standard layout.

Other Features
Apart from the free domain, other features include MEM and CPU resources for all plans. In addition, the expert plan includes CDN and SIteScan, too.

Reliability (Security Options)
Domain Privacy Protection
1&1 Ionos provides comprehensive domain protection with its Domain Guard. It verifies DNS traffic with DNSSEC encryption, and it applies to all domains within the contract. For the first year, this will cost $1, and then you will have to pay $15 a year.

Backups
1&1 Ionos provides cloud backup, which you can use to back up all cloud, virtual, and physical devices and get rid of having to make manual backups. You can choose from two different cloud backup packages.

SSL Certificate (Free)
Ionos offers a GeoTrust Dedicated SSL certificate that protects data exchange between your site and the users.

Dedicated IP
You can add dedicated IP addresses to your hosting plan by ordering additional servers.

Server Location
1&1 Ionos has servers in three countries: United States, Germany, and Great Britain. More specifically, the servers are located in New Jersey, Las Vegas, Frankfurt am Main, London, and Berlin.
Ease-of-Use
1&1 Ionos' interface is not exactly designed for beginners, but it's not too hard to set up your site and manage it. Instead of the standard cPanel, it has its own interface, so once you get used to that, it'll be easier to quickly access and manage everything.
Ease of Sign-up
The Ionos website is pretty straightforward, so signing up won't be an issue.
Payment Methods
Ionos accepts a number of payment methods, including PayPal, credit, and debit cards. For debit and credit cards, the company accepts Discover, Mastercard, American Express, and Visa.
Account Activation
One problem with 1&1 Ionos is that account registration is possible only in limited countries. For instance, registering in China is impossible since the country is not on the list of countries that can register the account.
Control Panel and Dashboard Experience
Customer Service (Support)
Live Chat
1&1 Ionos provides a live chat option for users. While the representatives can answer your queries, someone is not always available.

Tickets
While there are no tickets, some plans like VPS and dedicated hosting also provide free email support.

Phone
With 1&1 Ionos, you get phone support 24/7 throughout the year.

Knowledge Base
You get a clear, knowledgeable base where you can find how-to guides & FAQ.

Money-Back Guarantee (Refund Policy)
1&1 Ionos provides a 30-day money-back guarantee on all the plans, allowing you to test out the platform without any risks and then decide if that's what you want.
Frequently Asked Questions
Is IONOS any good?
There's no doubt that 1&1 Ionos is a reliable provider with an impressive uptime of up to 99.99%. Its hosting packages come with features like anti-spam protection and daily site backups. In fact, some of its offers are much better than what others promise.
What happened 1and1?
Back in 2018, 1&1 merged with ProfitBricks, a cloud infrastructure specialist, and rebranded as 1&1 Ionos.
How do I cancel my 1and1 contract?
To cancel your 1&1 Ionos contract online, simply follow these steps:
Go to the official website
Sign in to your account using your Ionos ID and passwords.
Now, choose the contract you wish to cancel
Click on 'Next' in the 'update auto-renewal setting' panel
Look for the option that says 'Automatically Keep My Contract'
Switch off the option
Now save
Finally, click on 'Disable Auto-Renewal'
Where are 1and1 servers located?
1&1 Ionos' primary data center for North American customers is located in Lenexa, Kansas, and is home to over 40,000 servers.
Does 1and1 use cPanel?
cPanel is quite a popular control panel; however, 1&1 does not use it. Instead, they have their own custom, easy-to-use control panel. It should be noted, though, that some plans like dedicated, VPS, and cloud plans make use of the Plesk brand control panel.
Who is 1&1 IONOS Best For?
Keeping all the plans and features in mind, we have determined that 1&1 Ionos is best for:
Individuals and small businesses who want features like website builder platform, domain registration, and email marketing.
For those who want good dedicated and cloud hosting plans.
For those who want to scale a business and are on a budget. However, it is not for beginners since it has a challenging interface.
Pros & Cons
Pros:
Testing shows dependable 99.99% uptime
Comes with easy to use website creation tools
Quite a good customer support
Both Windows, as well as Linux-based servers, are available
Cons:
Storage options could be better
Lacks a cPanel
Interface is quite hard to navigate
Do We Recommend 1&1 IONOS?
We definitely recommend Ionos. It has flexible and affordable plans for both Windows and Linux that come with a plethora of useful features. Plus, quite fast customer support only adds to the good experience. However, it comes with its fair share of drawbacks, too. For instance, you can't sign up for the service in most European countries. Plus, the $1/month package renews at $8/month, which is quite high.
As for the security, SSL makes it quite secure, and we love that users also get a free domain. Of course, it's not as good as A2 Hosting, Sitegrond, or AccuWeb Hosting, but it is a pretty reliable provider that can compete with HostPapa or GreenGeeks.
Have you used Ionos before? If you have, please consider giving a review, whether good or bad, so other visitors have more insight, too. Thanks for the support!
Published: December 8, 2020 | Updated: September 5, 2023