Table of Contents
Godaddy Review: Background Information
Incorporated in Delaware and headquartered in Scottsdale in Arizona, GoDaddy is recognized for its domain names, but it is also a pretty good hosting service. Over the last few years, the company has provided good page speed and uptime. Plus, it offers more than 150 free integrations for your site, along with decent customer support.
Website Hosted Stats & TLDs
GoDaddy has hosted over 46,000,000 domains and has three hosting plans. The highest number of websites hosted is .com, with more than 38,000,000 sites. This is followed by .org and .net domains.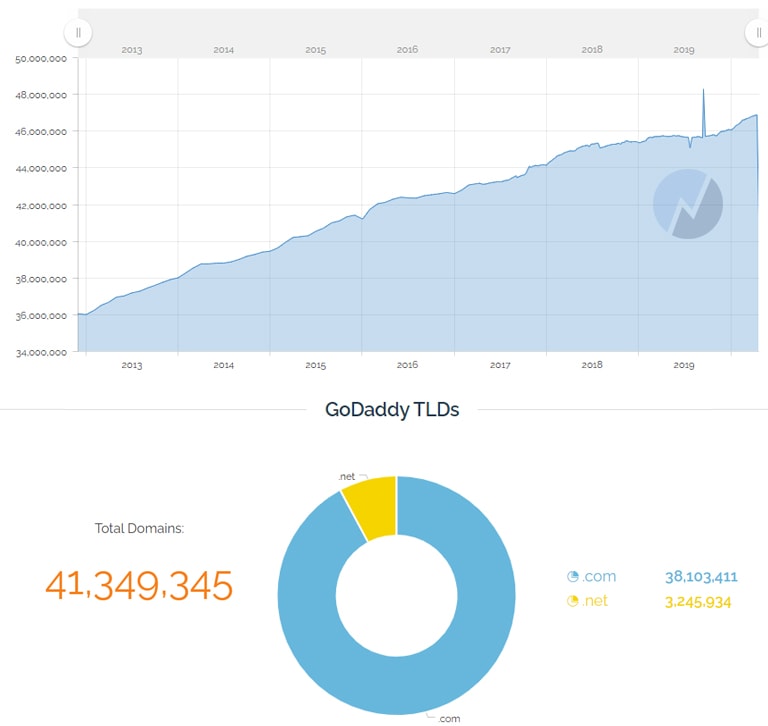 Performance, Uptime & Load Time
When it comes to choosing a web host, it's essential that you look at its performance. If the host's performance is not up to par, it will negatively impact not only your users' experience but also your site ranking. For this reason, you must look at the uptime and the average load time of the host.
Performance Test (Pingdom)

As mentioned earlier, it's important to have a fast web host if you want your website to be fast, too. To test GoDaddy's speed, we built a simple site with a default theme. We added dummy text and images so that the results gained would be more accurate. Then, we used Pingdom. As the results show, the load time is above one second, which is not so good.
Server Uptime & Load Time (UptimeRobot)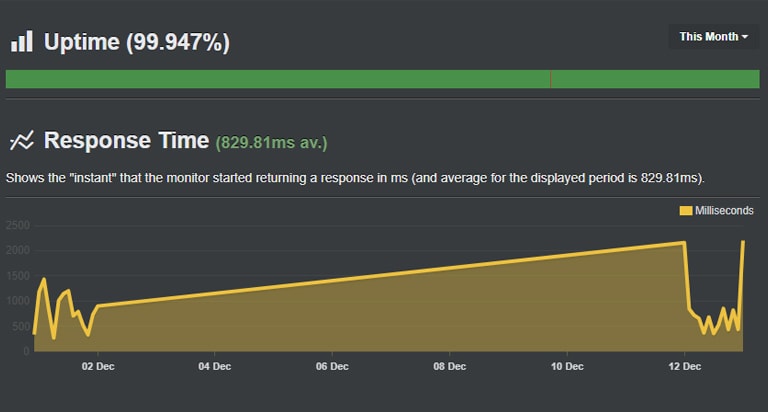 Next, we checked GoDaddy's overall availability. For this, we tested the response time and downtime. As the following results show, the uptime of 99.95% is pretty good. The speed is excellent too. It's clear from the graph that the response time has been quite steady, and the time stays well below a second, with the average response time being even less than half a second. The stats, thus, show that the host promises reliability and stability.
Server Response Time (Bitcatcha)

With tools like Pingdom, how data loads on your site, but for more accurate server response times, a better option is Bitcatcha. With this tool, you can test the response time of the server without loading any data. As the table shows, the response time is pretty decent, especially in Canada and the US. The response time is greater in other countries, but overall, it is still below even half a second, which is quite impressive.
Hosting Plans and Features
With GoDaddy, you can choose from a number of hosting plans that fit different needs and budgets. You can choose from VPS, dedicated, shared, WordPress, and reseller hosting. Here are the details:
| Type of Hosting | #1 Package | #2 Package | #3 Package | #4 Package |
| --- | --- | --- | --- | --- |
| Shared (Basic) | $5.99 / mo | $7.99 / mo | $12.99 / mo | $19.99 / mo |
| WordPress | $6.99 / mo | $9.99 / mo | $12.99 / mo | $15.99 / mo |
| VPS | $4.99 / mo | $19.99 / mo | $39.99 / mo | $69.99 / mo |
| Dedicated | $129.99 / mo | $169.99 / mo | $299.99 / mo | $399.99 / mo |
Shared Web Hosting
If you're short on budget, you should go for shared hosting. As the name suggests, your site is put on a server with other sites, and the resources are split.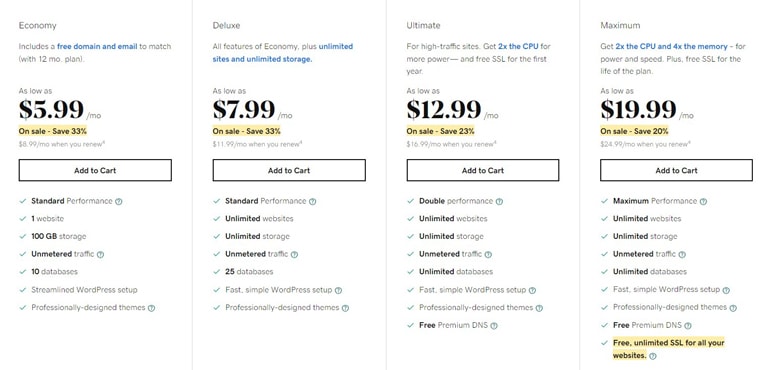 WordPress Web Hosting
As apparent by the name, this kind of hosting is for WordPress-powered sites and comes with features that protect the website from threats.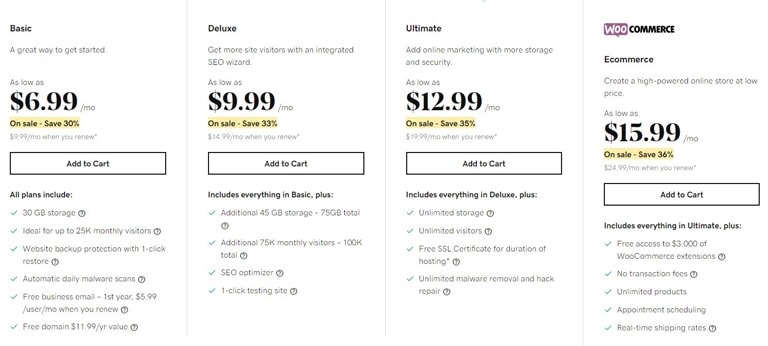 VPS Web Hosting
Virtual private server hosting, as the name suggests, involves you paying for shared space, but you get dedicated virtual resources.

Dedicated Web Hosting
If you require a lot of system resources, dedicated hosting is the way to go. Your site is the only one on the server, so you can make use of all the power.

Godaddy Basic (Shared Plan) in Detail
GoDaddy has four levels of the shared plan, each with features and pricing that target different needs and budgets. Regardless, all plans come with the features you would need to get your website up and running.
Economy Plan: This is the basic plan and starts at $5.99/month. With this, you get one website, 100GB storage, ten databases, and unmetered traffic.
Deluxe Plan: Apart from all the features that you get in the economy plan, this one includes unlimited storage and websites along with 25 databases. The price for this starts at $7.99/month
Ultimate Plan: The ultimate tier is designed for high traffic websites. With prices as low as $12.99/month, you get free SSL for a year, free DNS, and twice the CPU. The plan includes unlimited databases, websites, and storage, along with unmetered traffic.
Maximum Plan: This is the most premium plan and costs $19.99/month. It provides unlimited websites, storage, and databases. In addition, you get free DNS and free SSL for all your sites throughout the life of the plan.
| Main Features | Economy | Deluxe | Ultimate | Maximum |
| --- | --- | --- | --- | --- |
| Special Price | $5.99 / mo | $7.99 / mo | $12.99 / mo | $19.99 / mo |
| Normal price | $8.99 / mo | $11.99 / mo | $16.99 / mo | $24.99 / mo |
| Perfomance level | Standard | Standard | Double | Maximum |
| RAM | 100 GB | Unlimited | Unlimited | Unlimited |
| Webspace | Unlimited | Unlimited | Unlimited | Unlimited |
| 1 SSL Certificate | $79.99/yr | $79.99/yr | 1 year | ✔ Free |
| Daily backup | $2.99/mo | $2.99/mo | $2.99/mo | $2.99/mo |
| Easy 1-Click installation | ✔ | ✔ | ✔ | ✔ |
| Free domain for 1 year | ✔ | ✔ | ✔ | ✔ |
| Free Email | ✔ | ✔ | ✔ | ✔ |
| 24/7 customer service | ✔ | ✔ | ✔ | ✔ |
| Free premium DNS | ✖ | ✖ | ✔ | ✔ |
| 30 day money back guarantee | ✔ | ✔ | ✔ | ✔ |
Plans & Prices
All plans are priced differently. The most basic plan starts for as low as $5.99 a month. The following table shows the pricing in detail:
| Payment Period/Plan | Economy | Deluxe | Ultimate | Maximum |
| --- | --- | --- | --- | --- |
| 3 months | $10.99/mo | $12.99/mo | $19.99/mo | $28.99/mo |
| 12 months | $6.99/mo | $9.99/mo | $14.99/mo | $22.99/mo |
| 24 months | $6.49/mo | $8.99/mo | $13.99/mo | $21.99/mo |
| 36 months | $5.99/mo | $7.99/mo | $12.99/mo | $19.99/mo |
Renewal Prices
The renewal prices for all the plans are different, too. Here's a breakdown:
| Payment Period/Plan | Economy | Deluxe | Ultimate | Maximum |
| --- | --- | --- | --- | --- |
| 36 months | $8.99/mo | $11.99/mo | $16.99/mo | $24.99/mo |
Main Features in Detail
Domain Name & Email (Free or Not)
With GoDaddy, you get a free domain for a year. Email accounts are also great. The basic plan includes up to 100 accounts, the deluxe plan has 500 accounts, while, for others, it is unlimited. There's no direct limitation on email storage.

Web Space & Bandwidth
While the basic plan includes 100GB of storage, all the other plans come with unlimited storage. Meanwhile, the bandwidth is unmetered with all plans.

WordPress 1 Click
GoDaddy allows you to install over 125 applications with one click, which includes different content management platforms like Joomla, Drupal, and WordPress.

Migration Service
Unfortunately, GoDaddy doesn't offer free site migrations. Instead, it costs $99.99 per site/database and can take up to ten business days.

Website Builder
GoDaddy comes with two website builders. One is the host's own slick builder known as GoCentral that offers drag-and-drop functionality. The second one is known as WordPress QuickStart.

Other Features
To further decrease site loading time, GoDaddy supports integration with different CloudFare options. Plus, with the global centers, the page load times are pretty good.

Reliability (Security Options)
Domain Privacy Protection
GoDaddy domains are backed by basic privacy protection, but you can also opt for advanced options for a 9.99$ per year.

Backups
While some hosts offer free backups, that's not the case here. With GoDaddy, backups are priced at $2.99 a month.

SSL Certificate (Free)
Unless you opt for GoDaddy's most expensive plan, you will have to pay for the SSL certificate separately. An SSL certificate for a single domain will cost you $79.99 a year.

Dedicated IP
Business hosting plans come with a dedicated IP address. In the case of other plans, you will have to pay extra to get a dedicated IP.

Server Location
GoDaddy has servers present in Asia, America, and Europe.
Ease of Sign-up
Signing up with GoDaddy is very easy and intuitive, so there's no problem here.
Payment Methods
The host accepts all major credit cards. You can also pay via PayPal.
Account Activation
Account activation is almost instant, so you don't have to wait for long.
Control Panel and Dashboard Experience
To further add to the ease of use, GoDaddy provides a cPanel at the backend, which is quite user-friendly.
Customer Service (Support)
Live Chat
The live chat is quick, and instead of a chatbot, you are connected directly to a support agent once you type in your issue. You are connected to someone within a minute.

Tickets
Unfortunately, there's no ticketing system available.

Phone
Perhaps GoDaddy's phone support is highly commendable. Support is available in 27 languages, so you won't have problems with communication.

Knowledge Base
The knowledge base isn't too impressive and is hardly available. It's difficult to find anything of sustenance; there are no tutorials or FAQs.
Money-Back Guarantee (Refund Policy)
GoDaddy offers the standard 30 days money-back guarantee, and you can get a refund within a month. However, in the case of the monthly plan, you must request a refund in two days.
Who is GoDaddy Best For?
Seeing their plans and pricing, we can deduce that GoDaddy is suitable for:
People who want a host that provides good storage and doesn't limit the traffic
New users who just want to set up a website for their small business
Those looking to launch a WordPress website
Pros & Cons
Pros:
Good 24/7 support in multiple languages
Pretty good speed
Both Linux and Windows-based servers available
Starting a website is easy
More than 150 one-click installation
Cons:
No plans for cloud hosting
Online help is not really good
Uptime is not so good
SSL will cost 79.99$ per year
Do We Recommend Godaddy?
Yes, we definitely do. With millions of customers across the globe, you can find a plan that meets your needs and budgets. You get fast page loading speeds along with pretty good uptime. Plus, with over 150 integrations, you get the most popular web apps.
The pricing is overpriced if taken into consideration the costly SSL. If you've also used GoDaddy before, let us know of your experience. Your review can help our other readers make an informed choice.
Published: December 13, 2020 | Updated: January 17, 2021