15 Best Web Hosting Services (Compared, Tested & Reviewed) in 2023
For this ultimate web hosting comparison, we tested out over 30 web hosting providers and compared them on the basis of factors like support, features, uptime, reliability, and price. We used real-time data collected over 12 months and then chose the 10+ best web hosting services.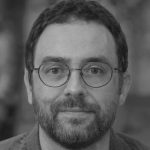 Oliver Brown, Contributing Editor | Updated September 5, 2023
Recommended by WordPress

#1 SiteGround
8.4/10 Total Score
Uptime: 99.98%
Load Time: 530 ms
- Free CDN, Email, SSL certificates
- Free Website Migration
- Excellent Customer Support
Fastest Shared Web Hosting

#2 A2 Hosting
8.4/10 Total Score
Uptime: 99.98%
Load Time: 299 ms
- Incredible Average Load Time
- Customer Support Is Super-Friendly
- 24/7 Servers Monitoring
Best Premium Host

#3 AccuWeb Hosting
8.4/10 Total Score
Uptime: 99.99%
Load Time: 410 ms
- Testing Shows Stellar Uptime
- Free Backups & Website Builder
- Affordable Pricing for All Plans
What We Did in Order to Find The Best
Choosing the best web hosting services from among so many operating today was definitely hard and involved extensive research and testing. We took our time and thoroughly analyzed all the competitors to comb out the best options available. When making the list, we used key metrics, including features, customer support, uptime, speed and price and then rated them on a scale of 1 to 10. Then, we took out the average of all the metrics and made the final rankings of each provider. This makes it easy to compare web hosting providers.
Uptime
0-10 score
average uptime data for 12 month
Speed
0-10 score
average load time data for 12 month
Price
0-10 score
monthly fee, money-back, renewal price
Support
0-10 score
telephone, email, chat, and other channels
Features
0-10 score
domain, ssl, cdn, web space, migration etc.
Sign Up & Pay
To ensure the most authentic review based on real data, we first signed up with the top 15 hosts and opted for a paid membership. Next, we set up a very basic WordPress site.
Monitoring
Once the website was running, we monitored the performance by testing out the load time and uptime. We also checked how long the site takes to load across the world.
Trustworthy
We evaluate each web hosting service quite thoroughly, which even includes going through the user reviews, BBB rating and terms of service.
Web Hosting Comparison Chart 2023 (Editorial Ratings)
The following table shows how each web host performed and the rating we gave for each key metric. This makes it easy to compare web hosting providers so you can choose the right one without a problem!
| Provider | Rating | TrustPilot | Price | Uptime | Speed | Price | Support | Features |
| --- | --- | --- | --- | --- | --- | --- | --- | --- |
| 1. SiteGround | 8.4/10 | 4.8/5 | $6.99 | 9/10 | 8/10 | 6/10 | 10/10 | 9/10 |
| 2. A2 Hosting | 8.4/10 | 4.1/5 | $2.99 | 9/10 | 10/10 | 7/10 | 9/10 | 7/10 |
| 3. AccuWeb Hosting | 8.4/10 | 4.0/5 | $3.09 | 10/10 | 9/10 | 9/10 | 7/10 | 7/10 |
| 4. Hostinger | 8.0/10 | 4.4/5 | $0.99 | 5/10 | 10/10 | 7/10 | 9/10 | 9/10 |
| 5. HostPapa | 7.6/10 | 3.8/5 | $3.95 | 10/10 | 8/10 | 7/10 | 5/10 | 8/10 |
| 6. Liquid Web | 7.6/10 | 4.6/10 | $35 | 10/10 | 10/10 | 3/10 | 8/10 | 7/10 |
| 7. GreenGeeks | 7.4/10 | 4.4/5 | $2.95 | 6/10 | 9/10 | 7/10 | 6/10 | 9/10 |
| 8. 1&1 IONOS | 7.2/10 | 4.1/5 | $4 | 10/10 | 6/10 | 7/10 | 5/10 | 8/10 |
| 9. BlueHost | 7.2/10 | 2.1/5 | $3.95 | 7/10 | 7/10 | 8/10 | 7/10 | 7/10 |
| 10. WP Engine | 7.2/10 | 4.4/5 | $25 | 10/10 | 9/10 | 3/10 | 7/10 | 7/10 |
Top 15 Best Web Hosting Services of 2023
With the plethora of services available today, it's no surprise that picking out the best one becomes very difficult. Even if you are well-versed in technology and the kind of host you require, comparing the hundreds of products and plans can be troublesome. To save you from all that hard work, we've done the research on your behalf. Check out our 15 best web hosting of 2023.
1. SiteGround: Recommended by WordPress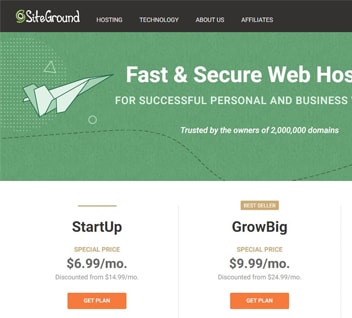 Cost (1 year plan): $6.99 / mo
Pros:
Free daily backups
Free CDN and SSL certificates
Site migration for one site is free
Excellent customer support
Good uptime & load time
Cons:
Renewal rates are quite high
No free domain name
SiteGround was founded in Bulgaria in 2004 and is included in the three web hosts that WordPress officially recommends. It has hosted more than two million domains and is also quite trustworthy in terms of speed.
Apart from WordPress, you can host other types of websites with them as well. The company has many hosting plans for many popular CMSs and platforms, including offers for PrestaShop, Drupal, Joomla, and Magento. You can also find cloud hosting plans.
The StartUp basic plan includes 100GB webspace, free CMS and emails, unmetered data transfer, and one website. It also includes daily backup and CloudFare CDN. The plan starts at $6.99. Other plans offered by the company include WooCommerce, WordPress, enterprise, reseller, and cloud hosting.
A2 Hosting: Fastest Shared Web Hosting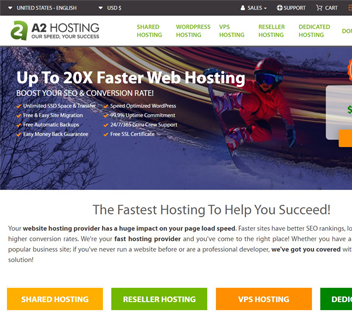 Cost (3 year plan): $2.99 / mo
Pros:
Incredible average load time
Hosting packages made for WordPress
Customer support is super-friendly
24/7 monitoring protects the servers
Cons:
Relatively expensive renewal price
No automatic backups & free domain
A2 Hosting is a US-based company founded in 2002 that has hosted more than 500,000 websites to date and is most famous for its fast shared web hosting. The reason for their great speed is that their servers are specially optimized for WordPress, and they make use of the LiteSpeed cache.
The web host also works seamlessly with nearly all major CMSs, like Magento, WordPress, OpenCart, Drupal, and Joomla, making it ideal for web developers. They have various hosting plans, and all of them come with free site migration, unlimited SSD storage, and an SSL certificate.
Startup basic plan and costs as low as $2.99. With this one you get one website, free site migration, and 100GB SSD storage, among other things. Other plans include WordPress, VPS, dedicated, and reseller hosting.
3. AccuWeb Hosting: Best Premium Host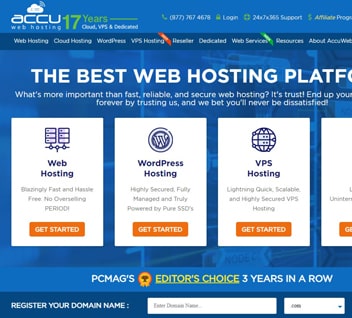 Cost (3 year plan): $3.09 / mo
Pros:
Testing shows stellar uptime
Provides excellent dedicated hosting
You can choose from Linux & Windows servers
Free backups and website builder
Affordable pricing for all plans
Cons:
Shared hosting plans are not available on a monthly basis
Windows accounts don't include unlimited email
AccuWeb Hosting was founded in 2003 in New Jersey and offers a variety of hosting services that range from dedicated, VPS, and shared hosting to the reseller, cloud, and application hosting. It is Microsoft-approved as a WebMatric-compatible host. It is also highly recommended for many ASP.net components.
Moreover, you aren't restricted only to Linux products. All the products are also available with a Windows server for a premium price. It is also famous for its helpful customer support and great uptime.
AccuWeb has shared hosting plans for both Linux and Windows. The basic Linux plan, known as personal web hosting costs $3.09/month and includes unlimited domains, 10GB SSD, 500GB monthly bandwidth, free website migration and SSL, and cPanel.
4. Hostinger: Most Affordable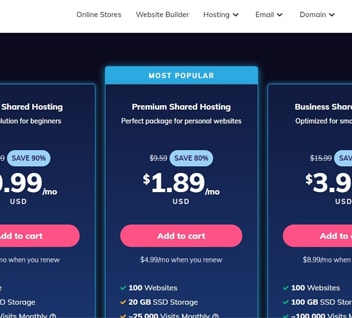 Cost (4 year plan): $0.99 / mo
Pros:
Very easy to use
Good load time
Multilingual and efficient customer support
Free migration service
Cons:
Paid Website Builder
Free domain only for 1 year
Hostinger is known as one of the biggest free web hosting companies that started out in 2007 as 000webhost.com. It has more than 30 million users and offers low prices due to the minimal overhead and running costs. The web host prefers to use its own technology so that it can ensure greater features and better performance control at a lower cost. All their tiers are quite cheap, and you get different kinds of hosting, including email, VPS, cloud, and WordPress hosting.
Their basic shared hosting plan starts from $0.99 a month and includes one email account and one website along with free SSL, 10GB SSD storage, and 100GB bandwidth. Other plans include cloud, WordPress, Minecraft, VPS, and Windows VPS hosting.
5. HostPapa: Most Reliable & Best for Small Businesses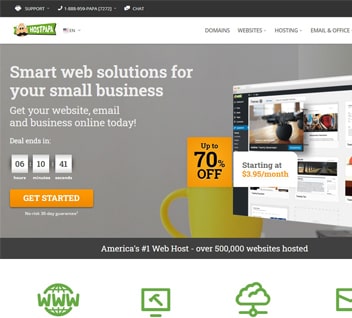 Cost (3 year plan): $3.95 / mo
Pros:
Comes with numerous safety features
Free domain name, site migration & SSL
Provides free extras that most other hosts don't provide
Known for its fast servers
Cons:
You will have to pay extra for the cancellation
Doesn't offer free automated backups
A privately-owned Canadian web hosting provider, HostPapa came into being in 2002 when it introduced its dedicated hosting-related application software. Later on, they started to offer their hosting services.
They now have different hosting types like VPS, WordPress, reseller, and shared hosting. They've also made a good reputation because of their commitment to reliability and security, solid customer support, and technical expertise. The company has also received numerous awards, including Uptime awards.
The starter plan for shared hosting starts at $3.95/month and includes two websites, 100GB SSD, free domain registration, and unmetered bandwidth.
6. Liquid Web: Best for High Traffic Sites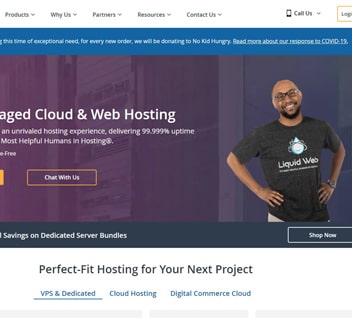 Cost (1 year plan): $19 / mo
Pros:
Optimized for quick page loading
No limit on the plugins you can use
100% uptime & excellent speed
Stellar customer support
Cons:
You should pay for all the extra features
Very costly hosting plans
Liquid Web came into being in 1997 and is a leader in dedicated, VPS, and managed cloud hosting. In fact, it is one of the best managed hosting solutions for everything, ranging from WordPress to WooCommerce and other cloud products.
Their cheapest plan is a VPS plan that costs $19/month. It includes one site, 2TB bandwidth, 15 GB storage, and unlimited email accounts.
The company made a name for itself for its quick, top-notch support. Plus, all the servers are well-tuned for security, performance, and speed, making it quite hassle-free. Most of the plans provide a lot more than what you would expect. It also has its own data centers that have their own network infrastructure and fully managed hardware.
7. GreenGeeks: Environment-friendly Hosting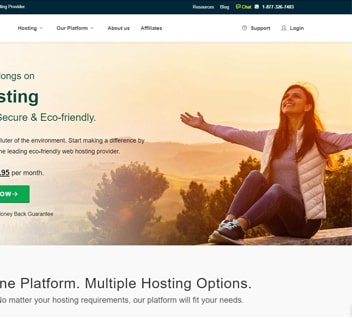 Cost (3 year plan): $2.95 / mo
Pros:
Great for the environment
Competitive pricing for the features
Promises enhanced security
Free site transfers and one-click installation
Good load time
Cons:
Phone support has limited hours
If you opt for monthly billing, you will need to pay a setup fee
GreenGeeks has made a name for itself as the most eco-friendly web host. It was founded back in 2008 in California and claimed to put thrice the power they use back into the grid as renewable energy.
The company offers shared, WordPress, and reseller plans and is quite well-known for its 24/7 support and fast performance. With the basic EcoSite Lite plan, you get to enjoy features like unlimited email accounts, bandwidth, and disk space along with free SSL and CloudFare CDN.
This plan starts at $2.95. You can also choose from five data centers. All in all, it is good for entry-level hosting, especially if you want to give back to the environment while hosting your business.
8. 1&1 IONOS: Best for All Needs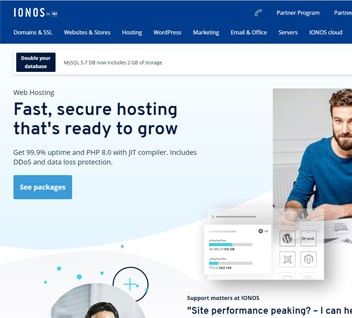 Cost (1 year plan): $4 / mo
Pros:
Provides easy-to-use site creation tools
Basic as well as advanced packages
Windows or Linux-based servers
Excellent uptime
Cons:
Custom-built web hosting panel
Slow customer support
Founded in 1988 in Germany, 1&1 Ionos is known as the largest web hosting provider in Europe. It has data centers across the globe and has hosted over 12 million domains.
The company provides a variety of packages, including dedicated, WordPress, VPS, cloud, and shared hosting. In fact, it gives quite good competition to others offering the same services because it boasts great customer service along with excellent uptime that appeals to both large and small businesses. The pricing is also simple, and there are no long, complicated contracts involved.
For its shared hosting, the most basic plan is called essential and it starts at $4/month. It is ideal for one site and comes with 10GB SSD, unlimited storage, and 10 email accounts.
9. BlueHost: Good for New Sites & Beginners

Cost (3 year plan): $3.95 / mo
Pros:
Include 50GB SSD storage
Plans include unmetered bandwidth
Introductory pricing is quite low
Feature-rich with great security options
Beginner-friendly
Cons:
Basic hosting plan has many restrictions
An exponential rise in rate after the initial period
No so good performance
Bluehost is a Utah-based company that started in 2007, and since then, it has hosted over 300,000 sites. It is known to be the most low-cost and popular option for beginners. With this web host, you get a cPanel that allows experts to tweak things.
You also get a Weebly-based website builder that lets you build a website with up to six pages. Other features that you get include free site migration, great customer support, and a user-friendly interface. The host is not only suitable for beginners; it also has tweaking options for advanced users.
The cost of the basic plan depends on the length of term you opt for; the longer the term, the cheaper the monthly cost. The plan includes 1 website and 50GB SSD storage along with CDN, domain, and an SSL certificate for free.
10. WP Engine: Most Famous Managed WordPress Host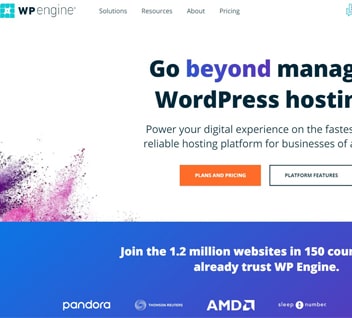 Cost (1 year plan): $25 / mo
Pros:
Regular backups
Useful staging area
You can choose from Google Cloud or Amazon Web Services
Threat detection in real-time
Good performance
Cons:
Limited phone support for basic plan
Emails not included
No free domain & SSL
WP Engine is the first name that comes to mind when it comes to managed WP hosting, and it is specially dedicated to hosting only WordPress sites. Plus, it can help you with troubleshooting, performance optimization, updates, setup, and security. Their startup plan starts at $25/month and includes 10GB storage, 1 site, and 50GB bandwidth.
Despite having a higher-than-average price, the company offers a multitude of bonuses and perks, even on the most basic plan. Some of the great features you can expect to enjoy with WP Engine include prod and stage environments, CDN access, automated SSL certificates, and transferable sites. You also get a lot of extras, like integrated performance tests.
11. DigitalOcean: Good for Cloud Hosting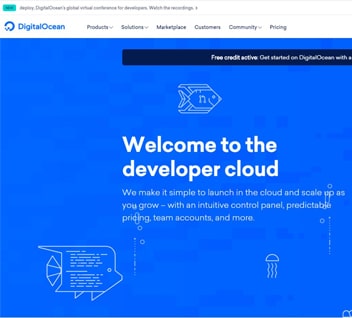 Cost (1 month plan): $5 / mo
Pros:
Wide developers community
Easily accessible
Inexpensive cloud hosting
Excellent uptime and load time
Dedicated IP
Cons:
Lack of cPanel
Not for the basic user
DigitalOcean is an American cloud host that launched its first server back in 2011 with its primary goal to help developers launch apps quickly and easily. While it started off as a small NYC-based company, it has grown exponentially and now has a customer base of more than half a million developers.
The company aims to use an SSD to make a user-friendly platform that allows clients to transfer projects from and to the cloud, which helps to increase production with efficiency. It is most notable for its simplicity both in pricing and design. It is also quite easy to understand and use.
12. InMotion: Good for VPS & Reseller Hosting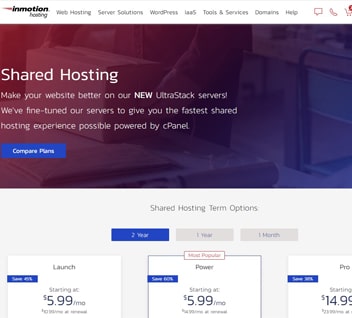 Cost (2 year plan): $5.99 / mo
Pros:
Pretty good load time
Comes with a premium site builder
Offers numerous integrations
Has great e-commerce support
Cons:
Server uptime is low
The verification process takes time
In the business for more than 15 years, InMotion hosting provides a great plethora of plans that also include reseller hosting. All plans come with assisted set up as well as migration. Plus, you don't have to worry about dealing with the server-side since the web host does that for you. If you're interested in becoming a web host yourself, you can benefit from the company's reseller plans that come with a WHMCS license for free. In addition to that, InMotion offers both Softaculous and cPanel panels. They also have commendable technical support that can help you if you're stuck with anything.
As with other hosts, the cost of the basic plan varies with the term you opt for. The Launch plan starts at $5.99/month if you go for the two-year plan and includes a free domain, two websites, unlimited bandwidth, and 50GB SSD storage. Other hosting plans include WordPress, dedicated, and VPS hosting.
13. GoDaddy: Biggest Web Host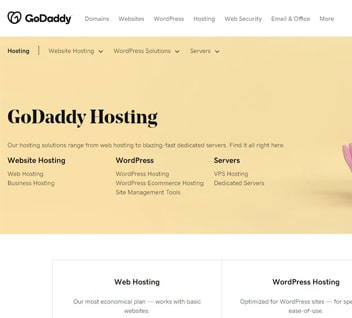 Cost (3 year plan): $5.99 / mo
Pros:
100 GB website storage
Good load time
Domain privacy protection
Access to a website builder and cPanel
Cons:
Lacks free site transfers
Email and SSL cost extra
GoDaddy is another leading web host that has powered more than 44 million websites. It has 14 facilities across the world and has cemented its place in the list of the biggest domain registrars. The company offers different kinds of hosting, ranging from WordPress, business, and shared to reseller and VPS hosting. They have plans for both small and big websites, making them suitable for all.
Starting at $5.99/month, the economy plan comes with a free email and domain along with one website, unmetered traffic, and 100GB storage. The host is also great for building custom sites since it offers features for a simple drag-drop website builder made for beginners. Along with that, it has developer-friendly tools, like CloudLinus, cPanel, MySQL, etc.
14. DreamHost: Most Versatile Host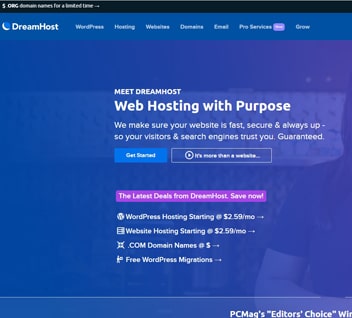 Cost (3 year plan): $2.59 / mo
Pros:
Comes with excellent security features
Tools for extensive domain management provided
Unlimited data transfers every month
Also has the WordPress staging feature
Cons:
Lacks telephone support
Performance is poor
Present in the industry for over 18 years, DreamHost is famous for making hosting easy and has powered more than 600,000 websites and blogs. The company provides great features for that, such as unlimited space and bandwidth, one-click WP installation, a custom dashboard, free SSDs and domain, and automatic WordPress updates.
The Shared Starter plan, which starts at $2.59/month includes a free SSL certificate and SSD storage, one website, unlimited traffic, and a WP website builder.
15. HostGator: Quite popular for Shared Packages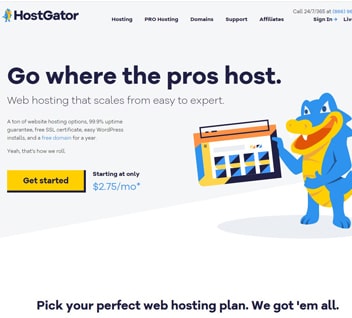 Cost (3 year plan): $2.75 / mo
Pros:
Free Domain & SSL
All hosting plans are packed with features
Includes a site-building software
Unlimited SSD & bandwidth
Cons:
Performance is bad even for a shared plan
High 1 month price
HostGator is another famous name in the industry. It hosts more than eight million domains and promises an extensive range of hosting services that come at a very competitive price. You can choose from WordPress, VPS, and even dedicated hosting.
Their basic plan is known as the hatchling plan and costs $2.75/mo. With this, you get one domain, one-click installation, free SSL certificate and domain, and unmetered bandwidth.
Web Hosting Comparison Chart (Uptime, Load Time, Price, Support)
For the purpose of this, we monitored 15 of the most famous services for 12 months. Then, we collected data, including support, price, speed, uptime, and summarized everything in the table below.
| Provider | Uptime, % | Speed, ms | Pingdom Grade | Special Price, $ / years | Renewal Price (1 year), $ | 1 Month Price, $ | Money Back, days | Response Time | BBB.org Rating | TrustPilot Rating |
| --- | --- | --- | --- | --- | --- | --- | --- | --- | --- | --- |
| 1. SiteGround | 99.98% | 530 ms | B 84 | $6.99 / 1 year | $14.99 | $19.99 | 30 | 3 min | A+ | 4.8 |
| 2. A2 Hosting | 99.98% | 299 ms | A 94 | $2.99 / 3 years | $6.99 | $10.99 | 30 | 5 min | A+ | 4.1 |
| 3. AccuWeb Hosting | 99.99% | 410 ms | A 91 | $3.09 / 3 years | $4.95 | – | 30 | 4 min | A+ | 4.0 |
| 4. Hostinger | 99.95% | 354 ms | A 91 | $0.99 / 4 years | $2.99 | $9.99 | 30 | 5 min | – | 4.4 |
| 5. HostPapa | 99.99% | 576 ms | B 87 | $3.95 / 3 years | $7.99 | $7.99 | 90 | 9 min | A+ | 3.8 |
| 6. Liquid Web | 99.99% | 343 ms | A 91 | $19 / 1 year | – | $19 | 30 | 5 min | – | 4.6 |
| 7. GreenGeeks | 99.95% | 462 ms | B 83 | $2.95 / 3 years | $4.95 | $9.95 | 30 | 7 min | A+ | 4.4 |
| 8. 1&1 IONOS | 99.99% | 746 ms | A 96 | $4 / 1 years | $6 | $6 | 30 | 30 min | A+ | 4.1 |
| 9. BlueHost | 99.96% | 617 ms | B 83 | $3.95 / 3 years | $5.95 | – | 30 | 5 min | A+ | 2.1 |
| 10. WP Engine | 99.99% | 488 ms | A 91 | $25 / 1 years | – | $30 | 60 | 4 min | A | 4.4 |
| 11. DigitalOcean | 99.98% | 277 ms | A 94 | $5 / 1 years | – | $5 | 30 | 1 day | B- | 2.1 |
| 12. InMotion | 99.94% | 509 ms | A 94 | $5.99 / 2 years | $10.99 | – | 90 | 10 min | A+ | 2.5 |
| 13. GoDaddy | 99.95% | 522 ms | B 85 | $5.99 / 3 years | $8.99 | – | 30 | 10 min | A+ | 4.1 |
| 14. DreamHost | 99.66% | 1116 ms | A 93 | $2.59 / 3 years | $3.95 | $4.95 | 97 | 7 min | A+ | 4.7 |
| 15. HostGator | 99.92% | 1023 ms | B 85 | $3.75 / 3 years | $3.95 | $10.95 | 45 | 5 min | A+ | 2.8 |
Web Hosting Comparison Chart (Key Features Between Shared Plans)
We compared the shared plans by all 15 of our top providers, along with the features they offer and presented a detailed review of each. The following table summarizes the started plans from different web hosts.
| Hosting Name | Control Panel | Web Space, gb | Bandwidth, gb | Free Domain, $ | Domain Protection, $ | SSL, $ | SiteLock Security | Didicated IP, $ | Domain Email, $ | WordPress 1 Click | Website Builder / Month, $ | Migration | SEO Tools / Year, $ | Automatic Backups, $ | Free Nighty Backups |
| --- | --- | --- | --- | --- | --- | --- | --- | --- | --- | --- | --- | --- | --- | --- | --- |
| 1. SiteGround | cPanel | 10 | Unlimited | 15.95 | 12 | Free | 19.80 | 30 | ✓ | ✓ | ✓ | ✓ | X | 29.95 | ✓ |
| 2. A2 Hosting | cPanel | 100 | Unlimited | 14.95 | ✓ | Free | ✓ | 71.88 | ✓ | ✓ | 6 | ✓ | X | 23.88 | ✓ |
| 3. AccuWeb Hosting | cPanel | 10 | 500 | 14.99 | X | Free | X | ✓ | ✓ | ✓ | ✓ | ✓ | X | ✓ | ✓ |
| 4. Hostinger | cPanel | 10 | 100 | 15 | 5 | Free | X | X | ✓ | ✓ | 1.99 | Free | 120 | X | ✓ |
| 5. HostPapa | cPanel | 100 | Unlimited | ✓ | X | Free | 19.95 | X | ✓ | ✓ | 2.99 | ✓ | X | 19.95 | ✓ |
| 6. Liquid Web | WHM/cPanel | 15 | 2 TB | X | X | X | X | ✓ | ✓ | ✓ | ✓ | ✓ | X | X | ✓ |
| 7. GreenGeeks | cPanel | Unlimited | Unlimited | ✓ | 9.95 | Free | 15 | 48 | ✓ | ✓ | ✓ | ✓ | X | 25 | ✓ |
| 8. 1&1 IONOS | Custom-Built | 10 | Unlimited | ✓ | X | Free | X | X | ✓ | ✓ | ✓ | ✓ | X | X | ✓ |
| 9. BlueHost | cPanel | 50 | Unlimited | ✓ | 11.88 | Free | 35.88 | X | ✓ | ✓ | ✓ | 149.99 | 23.88 | 35.88 | ✓ |
| 10. WP Engine | Custom-Built | 10 | 50 | X | X | X | X | X | X | ✓ | X | X | X | X | ✓ |
| 11. DigitalOcean | – | 25 | 1 TB | X | X | Free | X | ✓ | ✓ | ✓ | X | ✓ | X | X | ✓ |
| 12. InMotion | cPanel | 50 | Unlimited | ✓ | 12.99 | Free | ✓ | 72 | ✓ | ✓ | 7.99 | ✓ | X | 24 | ✓ |
| 13. GoDaddy | cPanel | 100 | Unlimited | ✓ | 9.99 | 80 | 71.88 | 71.88 | ✓ | ✓ | ✓ | ✓ | X | 2.99 | ✓ |
| 14. DreamHost | Custom-Built | Unlimited | Unlimited | ✓ | ✓ | Free | X | 59.95 | 19.99 | ✓ | ✓ | 99 | X | ✓ | ✓ |
| 15. HostGator | cPanel | Unlimited | Unlimited | ✓ | X | Free | X | X | ✓ | ✓ | ✓ | ✓ | X | X | ✓ |
How to Choose The Best Web Hosting in 2023 (10 Useful Tips)
1. Look at load time and uptime
Both load time and uptime are of great importance because they help to determine your site's performance quality. The two metrics also affect traffic and have an influence on the overall revenue of your website too.
Uptime is essentially the total time for which your site runs without facing any problems. On the contrary, downtime is the time for which your site is unavailable to customers. So, the longer your website stays down, the more money you lose.
Meanwhile, with slow load time, your site's bounce rate will increase exponentially. No one wants to wait for more than a few seconds for the page to load, especially if they're using a mobile device. Therefore, you need to ensure that both uptime and load times are good.
2. Don't fall for marketing gimmicks
A lot of services have a low starting price, but to be able to avail of that, you must prepay for up to three years. And after the introductory time ends, they increase the pricing. Similarly, the renewal price can be up to four times greater than the initial price. So while the pricing, in the beginning, might look great, the total cost, in the end, can stack up to be quite high, so one must be careful about that.
3. Credibility of the provider
You need to look at the trustworthiness of the provider. Anyone can pose as a real web host and resell products offered by someone else. To make sure you choose a genuine provider, look for how long they have been in business, their contact address, their website, etc. We monitor both negative and positive reviews on the web and keep a close eye on BBB.org and TrustPilot rating and reviews to ensure credibility.
4. Check if unlimited actually means unlimited
The majority of services state that they offer unmetered or unlimited disk storage and bandwidth; however, there's still some limit they've set, which might also be mentioned in the fine print in the company's terms of service.
So, if you have only a basic website, you don't need to worry about unlimited means. However, if you have something excessive, then you might have to spend more for more bandwidth and storage.
5. Transfer services may have some issues
Most hosts offer migration services either for free or at a very reasonable price. With these services, you can move your existing website to the new provider, thereby saving hassle.
However, one problem you might face is that the migration process is usually automated and might not meet your needs. For instance, everything might not be transferred, or the migrated site might be harder to maintain.
6. Will you require specialized hosting?
If you plan to use a CMS like Joomla or WordPress down the road, then it's better to choose a company that provides such specialized hosting plans. This way, you can start off with only the basic plan and then change the plan later on.
7. Location of your target audience
You must ensure that you choose a data center that is pretty close to the geographical location of your potential audience. This way, end-users will be able to enjoy better loading speed. In turn, your site will be able to rank better on search engines.
For example, what's ideal for a company in the UK is not the best option for a business setup in America. So, make sure you host your website in a data center that's on the same continent as most of your visitors.
8. Number of hosted domains
The number of sites you want to launch is important, too. However, it's not as straightforward as it seems. You must also check things like bandwidth, RAM, CPU, and databases per plan. In most cases, these metrics are more restrictive as compared to the number of hosted domains.
9. Number of daily visitors
A few providers explicitly state how many visitors their service can support. Meanwhile, for others, you'll have to search a bit more. Regardless, if you're only expecting daily visitors in hundreds, then there's no need to pay for a plan that allows up to 100,000 users. Plus, most companies make it quite easy to upgrade the plan if needed later on.
10. Are you setting up an online store?
If you plan to sell products on your site, you will need a PCI-compliant host, an advanced SSL certificate, and support for eCommerce systems like OpenCart or PayPal.
PCI is short for Payment Card Industry and is the security standard for organizations that process payments made via credit cards. Moreover, when it comes to SSL certificates, some include it in the price of their plans, while in other cases, you will have to pay extra for it.
Main Web Hosting Features & Reliability
Bandwidth / Traffic
The bandwidth dictates the amount of load that your site can handle. In other words, it is the amount of data it can transfer to visitors. Basically, your data is stored on a server, and those who come to your website use the bandwidth. So, the amount you required depends on the number of visitors as well as the content you have on your site.

SSL Certificate
It's imperative for your site to have a valid SSL certificate to ensure data security and safety. Most browsers, including Chrome, won't open a website if it doesn't have a secure connection. The majority of web hosts offer free SSL certificates, especially if you go for their premium plans. However, some might charge a separate fee of about $27 per year.

Disk Space (SSD/HDD)
You should have enough space to contain all the content you have. As the content you upload increases, so does the need for space. Also, remember that the price of the hosting plan varies according to the space you opt for.

CPUs & RAM
Both of these are also important to look for, especially if you're going for dedicated or VPS hosting. Most providers list the CPUs available in each of their packages. The higher the number, the faster the server.

Free Domain Name
Buying a domain name is quite easy, and you can get one for about $10. In fact, you can even find one for as low as $1 for the first year. Some hosting companies also provide a free domain name if you opt for their hosting packages, so you can consider those, too.

Dedicated IP
Dedicated IPs have a number of benefits, which include lower downtime and better stability. Reports also suggest that sites with dedicated IP addressed rank well on search engines like Google. So, if you have the resources, it's better to opt for a company offering it.

BackUps
Regardless of how reliable the provider is, 100% uptime is never fully guaranteed. At any time, things can go wrong, especially given the increased frequency of cyber-attacks now. For this reason, it's better to opt for a company that offers backups and also lets you download them whenever you need them.

Migration Service
Users tend to change their providers as their website grows. Therefore, we recommend you choose a company that makes migration from one provider to the other easy. Some companies might be customer-friendly, while others might make things more difficult, so make sure you choose wisely.

Types of Web Hosting (Shared, Cloud, WordPress & Dedicated) Infographic
The following infographic summarizes the different types of web hosting along with the benefits and drawbacks of each. This can help you understand which type you should choose.

Frequently Asked Questions
What is Web Hosting?
Before you understand hosting, you must first know what exactly a website is. Think of it as an address over the internet where people can learn about you in the form of images, videos, text, etc. Anyone can see the content. For that, it must be uploaded somewhere; you can't just expect people to access it if you have it only on your computer. This is where web hosting comes in - it keeps your data and lets users access it, based on the contract you have with the provider.
How Does Web Hosting Work?
To understand how web hosting works, think of it as uploading all your files on your computer and allowing people to access it. With web hosting, the only thing different is that the computer doesn't belong to you; rather, it belongs to the hosting provider who provides you limited space on their server to host your data. Visitors can then get access to the uploaded files by typing the link. They will be able to consume the content if they have the necessary permissions.
What Is Shared Hosting?
Shared hosting is perhaps the most cost-effective way of getting your website up and running. A number of customers share the resources on one server, which splits the cost between them. Such a kind of hosting is ideal for smaller sites that get limited traffic.
What Is WordPress Hosting?
As the term suggests, WordPress hosting is made specifically for use with WP with tailored security and performance features. It also comes with features like one-click installation of the plugins. With this kind of hosting, you also get an automatic update service.
What Is VPS (Virtual Private Server) Hosting?
A VPS is basically the combination of dedicated and shared hosting. Unlike shared hosting, it offers dedicated resources that only you get to use. It also allows users to rent out a virtual operating system on a server. Its benefits are very similar to those provided by a dedicated server, but only at a more affordable cost. With VPS hosting, you can expect benefits, such as more control and customization and significant improvement in performance.
What Is Cloud Hosting?
Cloud hosting essentially takes its resources from virtual servers. When compared to traditional shared hosting, you get to enjoy better speed, stability, security, and performance. With this kind of hosting, it's quite easy to scale your package according to your use. Some cloud hosting providers also have a pay-as-you-go plan, which only charges you for the resources you use.
What Is Dedicated Hosting?
Dedicated hosting can be best understood as a VPS service. Instead of renting just the operating system, you can rent out the entire server. This type of hosting is best for websites that receive a lot of traffic. However, it costs more than VPS, cloud, and shared hosting.
What Is Reseller Hosting?
With reseller hosting, you basically purchase bandwidth and storage from a hosting provider. You can then sell them to other companies. In other words, reseller hosting allows you to become a web host provider.
How Does Entry-Level Pricing Work?
The majority of web hosts today offer a promo or entry-level pricing. With this, you will be charged at around 50-80% off for the initial payment period that can last from one to three years. After that, you will have to pay the regular price to get the plan renewed. This results in an exponential increase in the cost.
Do I Get a Domain Name as Well?
Some companies give you a domain name for free for only the first year, while others do not. Rarely will you find a free domain for longer than a year. Once that time period is over, you will be charged an annual amount of $15 to keep the site up and running.
What Else Do I Need Before I Can Launch a Site?
It's essential to have a web hosting setup. In addition to that, you will require a domain name as well as a CMS (content management system) to build your site.
How to Choose the Best Web Hosting Service?
To make sure you end with the best web hosting service, here's what you must do:
Determine your needs
Figure out your budget
Check the speed provided by the hosting
Also, check the uptime to see if it is reliable enough
Take a look at the extra features (SSL, CDN, Backups, Dedicated IP, etc.)
Make sure to not be swayed by attempts of upselling
Finally, take a look at the availability of customer support
Web Hosting: Paid or Free?
There's no one that doesn't enjoy free stuff, and the same is the case with free web hosting services, which is also why they are so popular. However, unless you plan to use the web host only to run a personal site or learn coding, it's best to stay away from free services. Using them for your business website can post a lot of issues.
Services like VPN and web hosting cost money. For this reason, web hosts use a freemium business model, and they try to sway you to opt for a low-cost paid service. With free hosting, you can expect limitations on both bandwidth and disk space. Along with that, you won't get an SSL certificate, too, which is essential for running a business site. You also won't have daily backups, and your site might be down for certain hours on a daily basis.