Table of Contents
BlueHost Review: Background Information
Bluehost was founded by Matt Heaton and Danny Ashworth in 1996 in Provo, Utah. Soon, the company became one of the biggest hosts across the world. Today, it hosts more than two million sites.
One of the things that make it unique is the long-standing partnership it has with WordPress. As mentioned earlier, in 2006, it was announced as an official WordPress-recommended host. With more than 750 employees, you can be assured of the highest quality of services. The company is also known for its great hosting infrastructure and 24/7 customer support. It's also famous for the support it provides for open-source software like WordPress.
Recommended by WordPress.org
Many web hosts meet the minimum requirements set by WP. However, only three are officially recommended by WordPress, which includes Bluehost. It has been recommended since 2005 and includes a WordPress-centric dashboard and one-click installation. With Bluehost, you get not only the power of WP but also innovative themes and plugins along with third-party integrations.
Website Hosted Stats & TLDs
Bluehost has 13 different hosting plans and has hosted over 2,350,000 domains. Out of these, the most commonly hosted domain is .com, with over 200,000,000 sites. This is followed by .org and .net domains.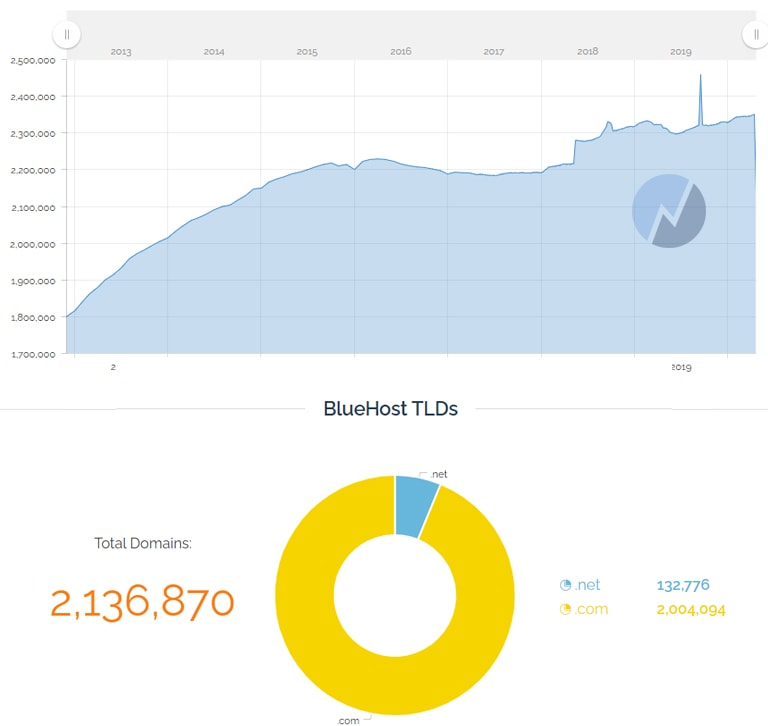 Performance, Uptime & Load Time
Before you choose a web host, it's important that you have a look at how it performs. In particular, you must know its uptime and average load time as they affect the user experience. Such metrics also affect WordPress SEO rankings.
Performance Test (Pingdom)

The web host you choose significantly affects the speed of your website. For this, we tested the speed of the host by making a test site that followed a default theme. Along with that, we added dummy content and images to make it resemble a real site. Then, we used Pingdom to test the speed. As the table shows, the load time is more than a second, which is not too bad.
Server Uptime & Load Time (UptimeRobot)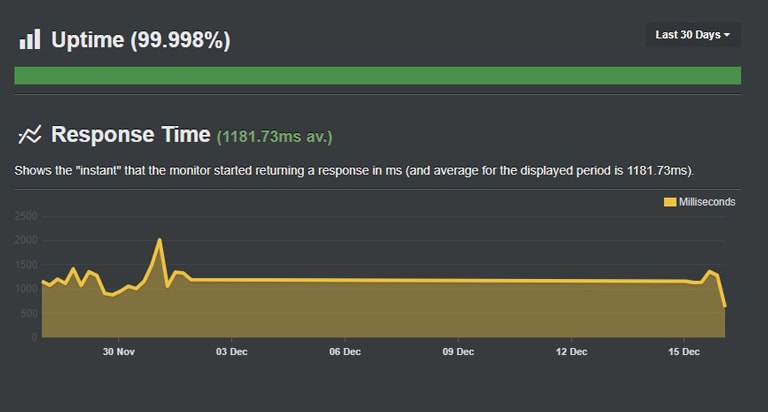 After testing the speed, we took a look at the host's overall availability. For this, we took a look at the response time and downtime. As you can see from the results, Bluehost has been up for more than a month without a problem. The uptime of 99.99% is pretty great, too.
As the graph shows, the speed is impressive, too. The response time has been pretty much steady and stays below one second. The average time is just a little above half a second, which isn't bad. Thus, you can be sure of reliable and stable performance.
Server Response Time (Bitcatcha)

The tools used previously only showed how data such as images load on your site. So, when it comes to getting an idea of the server response time, Bitcatcha is the more suitable tool. It can test out the server response time without loading data.
The following table shows that the server response times are quite good, especially in the US. Despite being higher in other countries, the response time is still well below even half a second. These figures prove that you can expect an excellent response time.
Hosting Plans and Features
Bluehost has many hosting plans that fit different budgets and needs. Apart from WordPress hosting, the host also offers shared, dedicated, VPS, WooCommerce, and cloud hosting. Here's a breakdown of the different plans and what they entail:
| Type of Hosting | #1 Package | #2 Package | #3 Package | #4 Package |
| --- | --- | --- | --- | --- |
| Shared (Basic) | $3.95 / mo | $5.95 / mo | $6.95 / mo | $3.95 / mo |
| WordPress | $3.95 / mo | $5.95 / mo | $6.95 / mo | – |
| VPS | $19.99 / mo | $29.99 / mo | $59.99 / mo | – |
| Dedicated | $79.99 / mo | $99.99 / mo | $119.99 / mo | – |
Shared Web Hosting
This plan is ideal if you want to start a new site and don't expect a lot of traffic. In a shared environment, your site will have to share all the resources with other sites on the same server.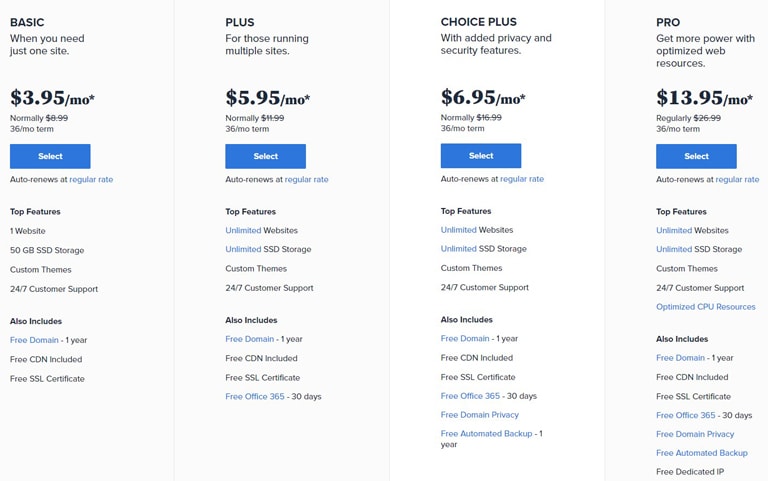 WordPress Web Hosting
This is a package specially designed for websites powered by WordPress. The plan is not only optimized to run WordPress, but it can also protect the site against common threats.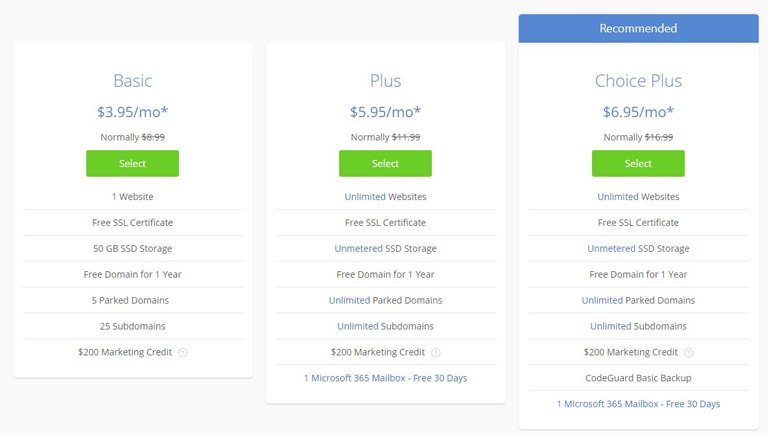 VPS Web Hosting
This is an upgrade to shared WordPress hosting. It gives you virtual dedicated resources, but in a shared environment.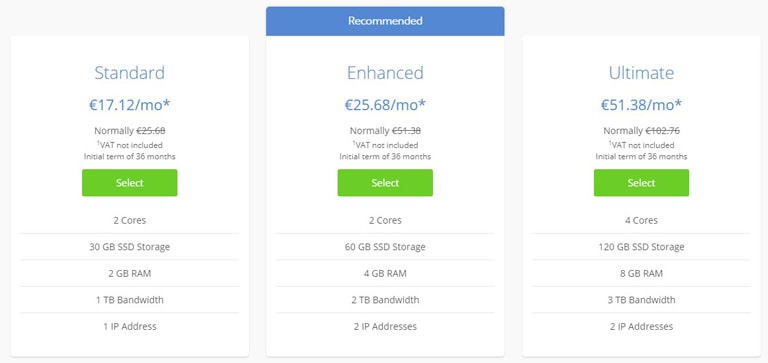 Dedicated Web Hosting
With a dedicated server for your site, you will have all the server resources for yourself. However, you will have to manage the server yourself.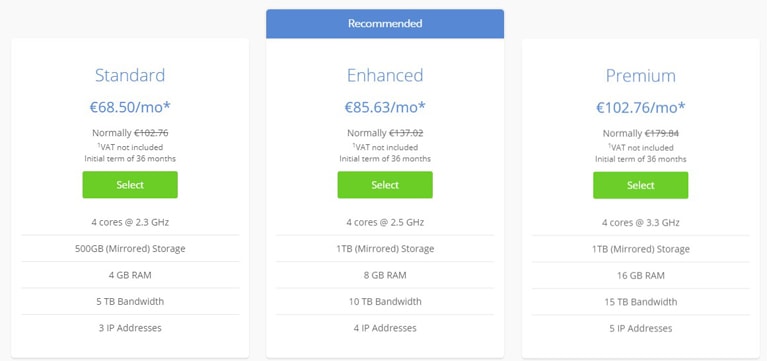 Bluehost Basic (Shared Plan) in Detail
Bluehost provides a shared hosting package, particularly designed for beginner websites. The shared plans have three levels, each with features that clients usually look for.
Bluehost Basic: The basic plan allows you to host only one website. Along with that, you get one domain, five email accounts, 25 subdomains, and 50GB of storage. For first-time users, the plan costs $3.95/month while the renewal costs $8.99 a month.
Bluehost Plus: With the plus plan, you get unlimited webspace, websites, email accounts, and bandwidth. The plan starts off at $5.95 a month, and the renewal costs $11.99 per month.
Bluehost Choice Plus: This is an upgrade to the plus plan. Apart from all the features included in the plus plan, the other extras you get include domain privacy and SiteBackup Pro that's worth over $80/year. For first-time buyers, the plan is priced at $6.95 a month, while the renewal costs $16.99.
Bluehost Go PRO: This plan is an addition to the Choice Plus package. It has all the features that you get in the Plus plan. Along with that, you get a high-performance server and a dedicated IP. The plan is priced at $13.95 a month, while the renewal costs $26.99.
| Main Features | BASIC | PLUS | CHOICE PLUS | PRO |
| --- | --- | --- | --- | --- |
| Special Price, mo | $3.95 | $5.95 | $6.95 | $13.95 |
| Normal price, mo | $8.99 | $11.99 | $16.99 | $26.99 |
| Amount | 1 Website | Unlimited | Unlimited | Unlimited |
| RAM | 50 GB | Unlimited | Unlimited | Unlimited |
| Webspace | Unlimited | Unlimited | Unlimited | Unlimited |
| 1 SSL Certificate | ✔ Free | ✔ Free | ✔ Free | ✔ Free |
| Daily backup | ✖ | ✖ | ✔ Free | ✔ Free |
| Easy 1-Click installation | ✔ | ✔ | ✔ | ✔ |
| Free domain for 1 year | ✔ | ✔ | ✔ | ✔ |
| Free Email | ✖ | ✔ | ✔ | ✔ |
| 24/7 customer service | ✔ | ✔ | ✔ | ✔ |
| Domain Privacy | ✖ | ✖ | ✔ | ✔ |
| Free CDN | ✔ | ✔ | ✔ | ✔ |
| Dedicated IP | ✖ | ✖ | ✖ | ✔ Free |
| 30 day money back guarantee | ✔ | ✔ | ✔ | ✔ |
Plans & Prices
All plans are priced differently. The most basic plan starts for as low as $5.99 a month. The following table shows the pricing in detail:
| Payment Period/Plan | BASIC | PLUS | CHOICE PLUS | PRO |
| --- | --- | --- | --- | --- |
| 12 months | $5.95/mo | $7.95/mo | $8.95/mo | $16.95/mo |
| 24 months | $4.95/mo | $6.95/mo | $7.95/mo | $12.95/mo |
| 36 months | $3.95/mo | $5.95/mo | $6.95/mo | $13.95/mo |
Renewal Prices
The renewal prices for all the plans are different, too. Here's a breakdown:
| Payment Period/Plan | BASIC | PLUS | CHOICE PLUS | PRO |
| --- | --- | --- | --- | --- |
| 12 months | $9.99/mo | $13.99/mo | $18.99/mo | $28.99/mo |
| 24 months | $9.49/mo | $12.99/mo | $17.99/mo | $27.99/mo |
| 36 months | $8.99/mo | $11.99/mo | $16.99/mo | $26.99/mo |
Main Features in Detail
Domain Name & Email (Free or Not)
All the shared hosting plans come with a free domain name for a year, which is not provided by most other hosts. Meanwhile, for email, there are three options. The essential plan is the cheapest and costs $3.95/license per month, while the Business Plus costs $5.95/license a month. The third option is the Business Pro plan that costs $13.95/license per month.

Web Space & Bandwidth
The basic plan includes a 50GB SSD, which is enough for users opting for this plan. The bandwidth is also unmetered but is not unlimited. Other hosting plans include unlimited SSD storage along with unmetered bandwidth.

WordPress 1 Click
Since Bluehost is ideally designed for WordPress hosting, it includes a one-click installation along with other WP features.

Migration Service
Unfortunately, you don't get free site migrations with Bluehost, and they cost you a hefty fee of $149.99. In addition, the host doesn't transfer more than five websites and twenty email accounts.

Website Builder
Bluehost offers a premium website builder known as Weebly for free that allows you to build your website without you having to know how to code. This site builder comes with user-friendly features, numerous themes, a drag-and-drop editor, and design elements such as parallax sliders.

Other Features
Bluehost offers a number of additional features like an application-rich dashboard that allow you to integrate different services like CloudFare and Google Apps in the cPanel. Numerous add-ons are also available, like spam protection, domain privacy, unique IPs, multi-server management, and SiteLock.

Reliability (Security Options)
Domain Privacy Protection
Bluehost offers domain privacy protection to keep your website protected by protecting it from theft, spam, and phishing attacks. It costs $0.99 a month.

Backups
You get free automatic backups with all shared plans. These are offered on monthly, weekly, and daily backups. In case of any problem, you can just restore your site to the previous state without a problem and keep your files safe.

SSL Certificate (Free)
All hosting plans come with a free SSL certificate that's powered by Let's Encrypt.

Dedicated IP
You won't get a dedicated plan with the basic, Choice, and Choice Plus plan. However, you get one with the Pro plan.

Server Location
Bluehost has just one server location in Provo, Utah. This is also where the company is based.
Ease of Sign-up
Setting up and managing your website with Bluehost is very easy. You get an enhanced cPanel that is very easy to use. Plus, it allows you to manage all your email addresses and websites in one location.
Payment Methods
Bluehost accepts nearly all credit cards. Plus, you can pay with PayPal, too.
Account Activation
The majority of users get instant account activation. In case there's suspicion of inaccurate information or fraud, then you might experience some delay in the activation.
Control Panel and Dashboard Experience
Bluehost offers a simple and easy-to-use cPanel. By just clicking on the icons, you can manage everything easily.
Customer Service (Support)
Live Chat
It generally takes less than a minute for you to connect with an agent in the chat bubble, and you don't have to wait long for your turn, too. The representatives have sufficient knowledge of the basic things, so you get the answers you need.

Knowledge Base
Bluehost's knowledge base has answers to most of the questions, and there are detailed tutorials in the form of eBooks and how-to articles. The tutorials also include images, making it easier to understand things. There's also an FAQ that covers a lot of topics.

Tickets
Bluehost's ticketing service is great, too. All the requests are routinely answered within the hour.

Phone
The host has an international number in case you need to get in touch with agents. Customer representatives are knowledgeable as well, so they can answer your queries.

Money-Back Guarantee (Refund Policy)
All Bluehost plans are backed by a 30-day money-back guarantee. You will get a full refund if you cancel within the first month. However, after that, you won't be able to get a refund. The domain fee is also non-refundable.
Frequently Asked Questions
Is Bluehost Good for Beginners?
Since it is quite easy to set up a website and get it running with Bluehost, it is suitable for beginners. Plus, it comes with a bunch of other user-friendly features like an easy-to-use cPanel. In addition, it has reliable servers and is fast.
Bluehost is also good for beginners because it has all the basic features needed to make a WordPress website live. With cheap plans, a free SSL certificate, and 24/7 support, beginners can get started easily.
Do I Own My Domain Name With Bluehost?
Yes, you have the complete rights to your domain name and are the rightful owner when you register it with Bluehost.
Does Bluehost Use SSD?
Yes, the servers use SSD. In fact, Bluehost provides free SSDs with the basic hosting plans.
Does Bluehost Have a Website Builder?
Bluehost provides a free version of the website builder to all customers. This includes the basic features needed to make a fully-functional site.
Who is Bluehost Best For?
Having looked at the pricing and features of the different plans provided by Bluehost, it is clear that it is suitable for:
Those who want a reliable host that can be trusted. Bluehost has a great reputation for being trustworthy and reliable.
WordPress users who are willing to spend a bit more to get additional features.
Small business and large enterprises. If you have a limited budget and are looking for general-purpose hosting, you can benefit from Bluehost.
Pros & Cons
Pros:
Most plans include unlimited domain hosting, disk storage, and bandwidth
All plans include impressive security features
cPanel is very intuitive and easy to use
Packages include a free domain name for a year
Cons:
The signup process involves many upsells
Renewal plans prices is quite high
Do we Recommend Bluehost?
Yes, we definitely do. All plans come with many excellent features and extras. Plus, all the plans are so diverse that even if you are on a budget, you can find something that meets your needs. Keeping that in mind, we recommend Bluehost to all.
Now that you know everything about Bluehost, we hope it's easier to decide if it's right for you. If you've previously used Bluehost, consider leaving a review, whether good or bad, to help other readers make a more informed choice!
Published: December 17, 2020 | Updated: December 17, 2020