Table of Contents
InMotion Review: Background Information
InMotion Hosting kicked off operations in 2001, and since then, it has grown to great heights with customers hosting more than 300,000 domains on the servers. It offers many plans, including managed, reseller, WordPress, and shared business hosting, dedicated hosting, and VPS.
While InMotion's prices are not the cheapest, they put up a fair competition to other hosting companies. They have hosting plans for everyone, ranging from beginners and bloggers to large companies. Plus, they are famous for their broad range of services, quality customer service, and reliable hosting.
Website Hosted Stats & TLDs
With a global rating of 4.11 out of 5 and a site rank of 34 out of 5249 providers, InMotion Hosting has hosted more than 470,000 domains and has 18 hosting plans. Out of these domains, the highest ones it has hosted are '.com' domains with over 400,000 domains. That is followed by '.org' domains at over 34000.
Performance, Uptime & Load Time
Before you choose a web host, you must take a look at the performance metrics. It's important to look at metrics like host uptime and average load time.
Performance Test (Pingdom)

To ensure your website is fast, it's imperative that your web host is fast, too. Keeping this in view, we tested the host's speed. We first made a test website that followed the default theme and added dummy content along with images to make it look like a real website. After that, we used Pingdom to test the speed.
As the following stats show, the load time is quite less than even half a second, which is quite impressive.
Server Uptime & Load Time (UptimeRobot)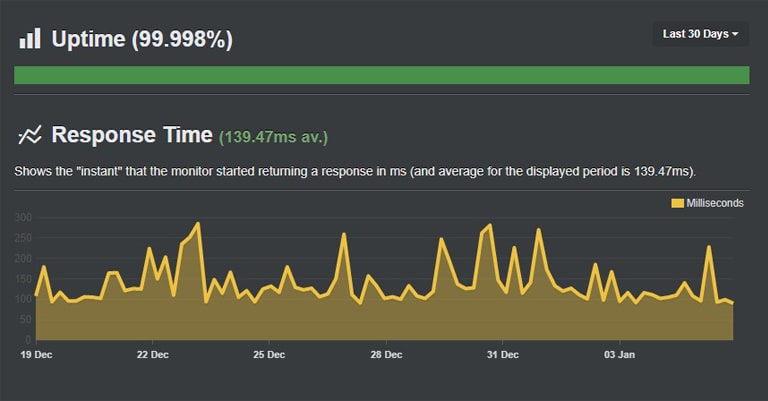 The second test we did was for the overall availability of the host. For this, we looked at the response time and downtime. As you can see from the results, InMotion Hosting hasn't been down for the last month. Plus, it has an impressive 99.99% uptime.
The speed is quite impressive, too. As the graph shows, the response time has been quite steady and hardly reaches up to a second throughout the day. The average response time is also well below half a second, which hints at the host's reliability and stability.
Server Response Time (Bitcatcha)

With Pingdom and other similar tools, you can see how images and data load on your site. However, to get a more accurate idea of the server response time, Bitcatcha is the more suitable tool. With it, you can get to know a more accurate server response time without loading data.
As the table shows, the host has exceptional server response time, especially in the US. The response time in other countries might be a little higher, but it is still well below a second. So, overall, the response time is quite great.
Hosting Plans and Features
InMotion hosting has numerous hosting plans designed for different traffic requirements and budgets. The hosting plans include:
| Type of Hosting | #1 Package | #2 Package | #3 Package | #4 Package |
| --- | --- | --- | --- | --- |
| Shared (Basic) | $5.99 / mo | $8.99 / mo | $14.99 / mo | – |
| WordPress | $6.99 / mo | $9.99 / mo | $12.99 / mo | $19.99 / mo |
| VPS | $29.99 / mo | $49.99 / mo | $83.99 / mo | – |
| Dedicated | $139.99 / mo | $189.99 / mo | $259.99 / mo | – |
Shared Web Hosting
This is ideal for starter websites that will get low traffic. With this kind of hosting, your site shares its resources with the other hosting accounts present on the server. Shared hosting is the most basic and beginner-friendly hosting option.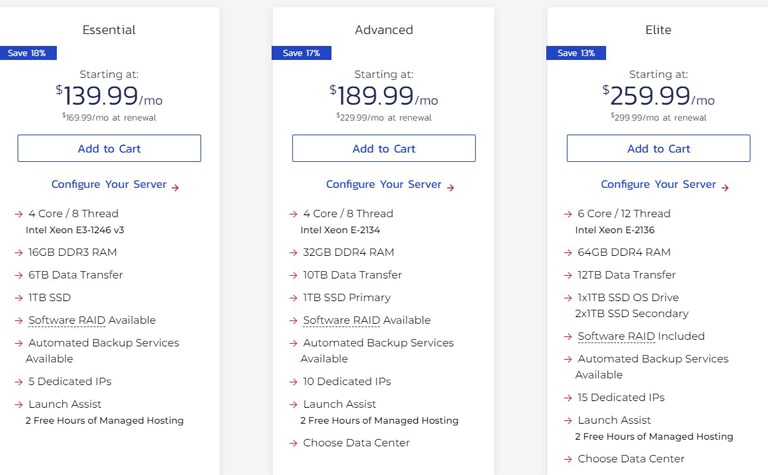 WordPress Web Hosting
Quite similar to shared hosting, this plan is particularly optimized for WordPress-powered websites. It includes extra features and tools to improve the site's security and performance.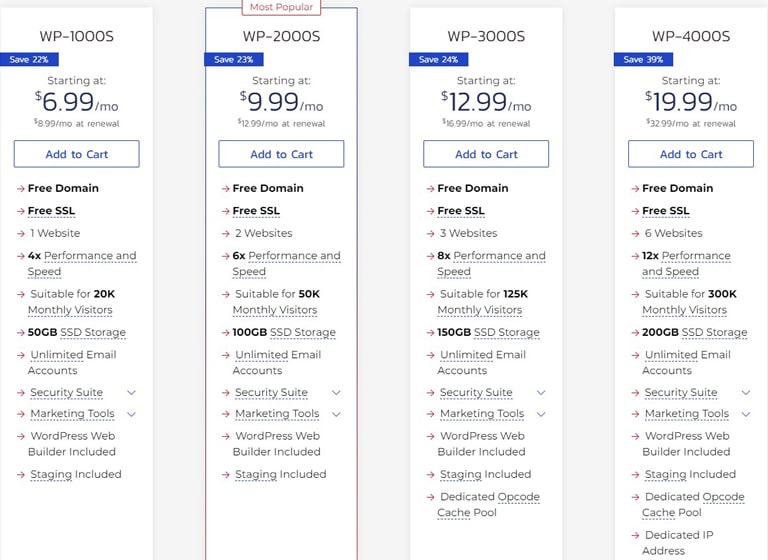 VPS Web Hosting
This is basically an upgrade of shared hosting and allows you to split resources with several servers on the cloud. As a result, your website gets more to grow and manage traffic.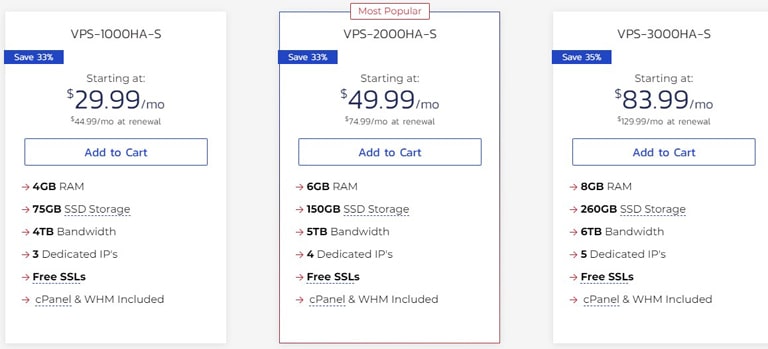 Dedicated Web Hosting
Ideal for high traffic and enterprise websites, this plan provides the complete server for your website.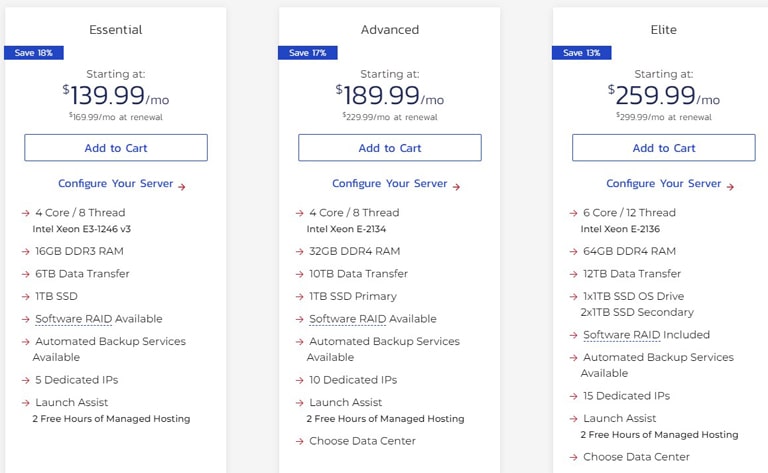 InMotion Basic (Shared Plan) in Detail
Shared hosting is thought to be the best option for small businesses as well as bloggers. So, if you have a new website and are just starting out, you should opt for InMotion's shared hosting plan. Once your site starts to grow, you can upgrade to a more powerful plan.
Launch: With this plan, you can host only two sites with up to 25 subdomains. The plan includes all the regular features, such as unlimited storage and bandwidth and free domain. The plan starts off at $5.99 a month (for 2 years), and the renewal costs $10.99 per month.
Power: This is most popular plan. The plan allows you to host up to six websites and up to 50 databases. The plan starts off at $8.99 a month, and the renewal costs $14.99 per month.
Pro: If you're a fast-growing business, you should opt for the Pro plan. With this plan, you get unlimited databases and sites. Priority support features are also included in the plan. The plan is priced at $14.99 a month, while the renewal costs $23.99.
| Main Features | Launch | Power | Pro |
| --- | --- | --- | --- |
| Special Price (for 2 years), mo | $5.99 | $8.99 | $14.99 |
| Normal price, mo | $10.99 | $14.99 | $23.99 |
| Free Domain | ✔ | ✔ | ✔ |
| Amount | 2 Websites | Up to 50 Websites | Up to 100 Websites |
| SSD Storage | 50 GB | 100 GB | 200 GB |
| Bandwidth | Unlimited | Unlimited | Unlimited |
| Free SSL | ✔ | ✔ | ✔ |
| Performance & Speed | 3x | 4x | 6x |
| Email Addresses | 10 | 50 | Unlimited |
| Automatic Backups | ✔ | ✔ | ✔ |
| Easy 1-Click installation | ✔ | ✔ | ✔ |
| 24/7 customer service | ✔ | ✔ | ✔ |
| Website Builder | ✔ | ✔ | ✔ |
| Dedicated IP | ✖ | ✖ | ✖ |
| 30 day money back guarantee | ✔ | ✔ | ✔ |
Plans & Prices
InMotion Hosting's plans are priced on a one-year and two-year basis. Only the pro plan is also available on a one-month basis. Here's a breakdown of the price:
Payment Period/Plan
Launch
Power
Pro
1 months
only available for
2 year & 1 year terms
only available for
2 year & 1 year terms
$19.99/mo
12 months
$6.99/mo
$9.99/mo
$15.99/mo
24 months
$5.99/mo
$8.99/mo
$14.99/mo
Renewal Prices
The renewal prices for all the plans are different and depend on the payment plan. Renewal is the cheapest if you opt for the two-year plan. The renewal prices are summarized in the table below:
Payment Period/Plan
Launch
Power
Pro
1 months
only available for
2 year & 1 year terms
only available for
2 year & 1 year terms
$27.99/mo
12 months
$11.99/mo
$15.99/mo
$24.99/mo
24 months
$10.99/mo
$14.99/mo
$23.99/mo
Main Features in Detail
Domain Name & Email (Free or Not)
InMotion hosting plans include free domains along and unlimited email. Each email inbox also comes with unlimited storage.

Web Space & Bandwidth
All plans include unmetered bandwidth while the storage starts from 50GB in the launch plan and extends to up to 200GB with the pro plan.

WordPress 1 Click
All InMotion Hosting plans come with a one-click WordPress installer.

Migration Service
Like most other web hosts, InMotion Hosting provides free site transfer from your current hosting. It will transfer up to three websites for free. The only thing is zero downtime during the migration process is not guaranteed.

Website Builder
The web host provides the BoldGrid WordPress website builder for free.

Other Features
InMotion makes eCommerce better by ensuring easy integrations with payment processors. It also offers a three-step wizard that allows you to connect with Google Apps.

Reliability (Security Options)
Domain Privacy Protection
InMotion Hosting offers domain privacy protection at a nominal cost. This service keeps your personal information protected from identity thieves, spammers, etc.

Backups
When you opt for other web hosts, you often have to manually create backups or pay more for automated backups. However, InMotion offers free, automatic backups with all their plans.

SSL Certificate (Free)
While many hosts charge extra to add an SSL certificate to your site, InMotion provides an SSL certificate for free for all shared hosting plans.

Dedicated IP
You can request a dedicated IP address in your account management plan. InMotion Hosting's team will inform you when the IP is ready. The cost is 72$ per year.

Server Location
The company has two data centers located on the east and west coast of the US. One is in Los Angeles, while the other is in Virginia Beach.
Ease of Sign-up
Signing up only involves a four-step process. It's slightly lengthy but quite simple.
Payment Methods
InMotion Hosting accepts checks, credit cards, and purchase orders.
Account Activation
While the account activation is quite easy and straightforward, the only problem is that if you're outside the US, then you might have to wait a bit since, in that case, account activation is not instant. Before activating the accounts, the company verifies orders by phone.
Control Panel and Dashboard Experience
With all of the plans, you get the standard cPanel once you create your account and sign up for one of the plans. From here, you can manage your domain settings as well as your SSL certificates.
Customer Service (Support)
Live Chat
Live chat is available 24/7, and the representatives are able to answer questions promptly. You also don't have to wait too long to be connected to an agent. While the platform is a little outdated, the knowledge and speed of the agents more than make up for it.

Knowledge Base
InMotion Hosting is quite well-known for its knowledge base that is full of tutorials and support articles. There are hundreds of guides and articles, and all the content is of good quality. Along with that, there's a community forum as well as a YouTube channel.

Tickets
There's a ticket system, and within minutes of submitting your ticket, you are connected to a professional live agent who can answer all your queries for you.

Phone
Phone support is also available 24/7.

Money-Back Guarantee (Refund Policy)
Usually, web hosts provide a 30-day money-back guarantee. However, InMotion is so confident in its service that it provides up to three months of money-back guarantee for reseller, VPS, and business hosting plans. Meanwhile, for shared hosting plans, you get the standard 30-day money-back guarantee.
Who is InMotion Best For?
With InMotion Hosting's plans that fit all budget sizes, the web host is best for:
New businesses and blogs since the variety of hosting plans allow your business to grow without having to worry about moving to a new host.
Medium-scale businesses since you can easily upgrade the hosting plan when you need more resources.
Pros & Cons
Pros:
Pretty good speed
Includes an easy-to-use website builder
Extended money-back guarantee
All plans come with unlimited emails
Helpful customer support
Cons:
Not all plans have a monthly payment option
Shared hosting plans are quite expensive
Average uptime is not up to par
Cheap plan only available on signup for 24 months
Access to your account is not instant
Do we Recommend InMotion?
Well, yes and no – it all depends on the plan you're going for. If you're going for VPS hosting, then InMotion is a great choice. However, for shared hosting, it's better to opt for some other alternatives like Bluehost, GreenGeeks, or SiteGround.
In addition, for shared hosting, the renewal price is too high. Plus, the uptime wasn't constant and didn't stay good for a long time; hence, you should consider other options, too.
P.S. If you've ever tried InMotion Hosting, don't forget to leave an honest review, whether it is bad or good; it can really help our visitors. Thanks for the support!
Published: January 5, 2021 | Updated: January 6, 2021